Author: Linda Harnisch
– Communications Lead
Looking for ways to improve your Google Play Store appearance? One question to ask yourself is this: Are you making full use of HTML rich formatting and emojis on your app product page? In this article we will show you how to take your ASO on Android up a notch. Read on or get directly in touch with our team at [email protected].
What is html rich formatting and why should I use it?
Very simply put, rich formatting is using HTML code to enhance the visual appearance of your short and long description in the Google Play store by applying bold, italic, underlined, bulleted or colored text. Emojis 📱😀 can be placed in any of the Play Store's textual elements such as:
App Title: only UTF-8 symbols & Emoji
Developer Name: only UTF-8 symbols & Emoji
Short Description: only UTF-8 symbols & Emoji
Long Description: HTML formatting, UTF-8 symbols & Emoji
Release Notes/What's New: HTML formatting, UTF-8 symbols & Emoji
Good news, on Android you can use html rich formatting and emojis in some of your text assets to catch the eye of visitors to the Play Store. And potentially Emojis could become reality with iOS 12 as well (currently in testing with clients).
Why use it? For an array of reasons such as:
draw user's attention
structure information better
get your message across
enhancing your conversion rate
Optimize text assets with formatting
As you might have noticed the Google Play Store saw some recent changes in the layout of information on your app product page. That's why we included some best practices with the new layout for you further down in this article. You can find a detailed article on the Play Store redesign at Splitmetrics. The app title remains an eye catcher on the store listing. However the short description gets a way less favorable position in the new design following the screenshots.
Visual elements on your Play Store product page do remain a huge driver for conversions. Only 2-3% of users actually get to the long description and most of them just scan through it. According to Storemaven just 5% of users click on the "read more" button under the short description. But: For those users who do scroll to your short- and long description you want to make these textual assets as structured and visual appealing as possible to catch their attention. As quoted and reported by several sources on the topic, the Boomerang app saw an increase in app page conversion by 16% due to formatting their app listing in the Google Play Store.
Also, don't forget about those geeky guys who do care about app's release notes. Format your release notes and use emojis to stand out from the crowd with engaging updates, call to actions and marketing messages.
Examples of formatting for ASO on the Google Play Store
Enough said about the what and why. How do you actually format your text on the app product page. As outlined in chapter 1, all the text assets in the Google Play Store can be altered with formatting. Only for the long description on Android and your release notes there is a wider range of HMTL code that you can use to structure your text.
The Tool provides a neat table that shows the codes and how they appear on your Android device (Google Play Store) and your desktop (Play.google.com)
Let's take a look at some best practices of formatting on Android for App Store Optimization. These screenshots already include the new layout on the Google Play Store as of October 2018.
App Titel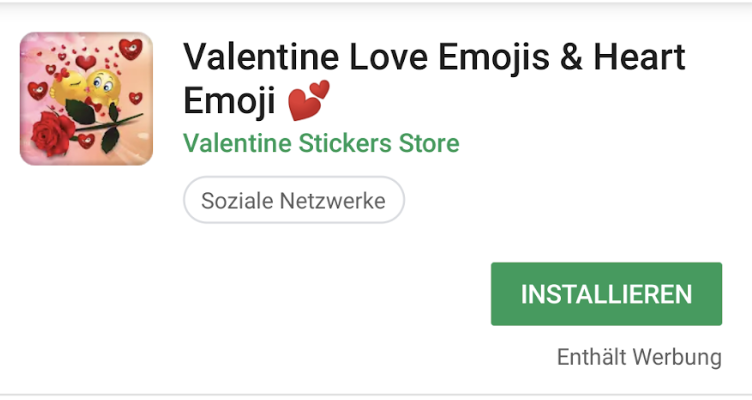 Developer Name
Short Description
Long Description
Release Note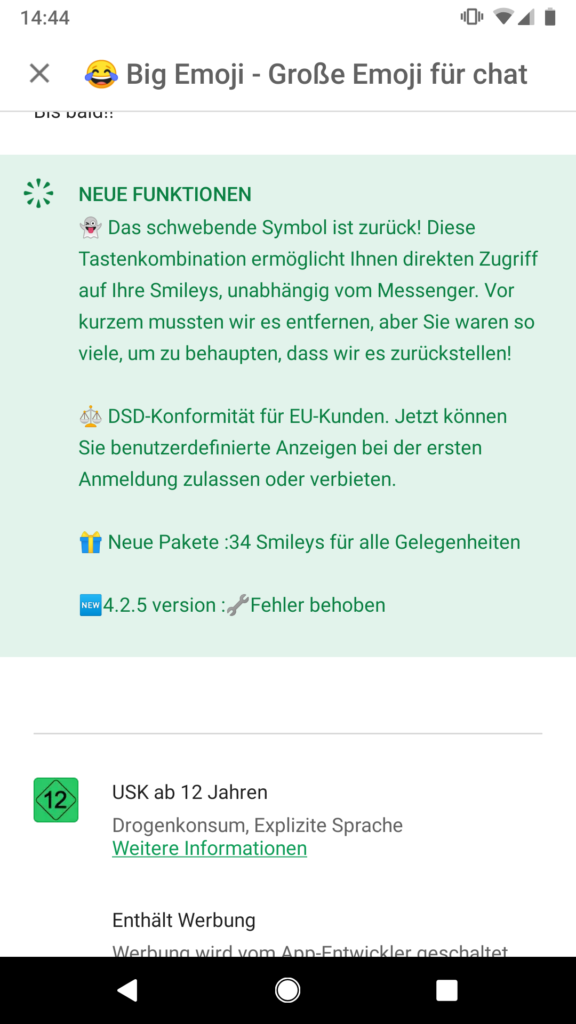 Tips & Hints
Don't overdo the highlighting of text in the long description. Put emphasis on your app's main message and focus.
Use the right emojis: It is tempting to use colorful 🤩💓🦄🌮 for your app description. When using emojis or formatting (we like to use https://emojipedia.org/) you want to stay true to your brand. Only choose the amount of emojis that suit your brand.
Previewing changes on the Google Play Console: you cannot review your formatting changes in Google Play until the updated app description is live. The folks from Boomerang app recommend to use an A/B test and give the formatted version as little traffic as possible. Then check on what it looks like live and adjust if needed.
Using HTML rich formatting and emojis for Android isn't complicated at all but very effective. If you want to get started and step up your ASO game we're happy to support you.
Helpful links:
How to Use HTML & Emoji in your Google Play Store App Listing (The Tool)
The 5-Minute App Store Optimization: Rich Formatted Descriptions Increase Installs by 16% (Boomerang)
Rich Format in Google's Play Store (moburst)
Rich text format: why use it? (rankmyapp)