Vom Auftritt in den App Stores bis hin zu Werbemitteln und Kampagnen-Steuerung bieten wir Ihnen jegliche Services rund um die Vermarktung Ihrer App. Dies beinhaltet sowohl Nutzerakquise als auch Retention durch Retargeting und CRM-Kampagnensteuerung.
ASO ist vergleichbar mit SEO für Webseiten und mindestens genauso wichtig. Wir helfen Ihnen bei der App-Store-Optimierung (ASO) und zeigen, wie Sie die Sichtbarkeit und In-Store-Conversion-Rate Ihrer App maximieren.
Performance-App-Marketing ist das Fundament, um die Bekanntheit Ihrer App zu steigern, die Sichtbarkeit Ihrer App im Store zu erhöhen und neue mobile Kunden zu akquirieren. Wir übernehmen die Konzeption, Umsetzung, Steuerung und Optimierung Ihrer Performance App Marketing Kampagnen.
Ob statische oder animierte Display Ads, Social Ads für Facebook, Instagram oder LinkedIn: Wir sind Ihre Adresse für jegliche Werbemittel und Banner Ihrer digitalen Marketing Aktivitäten. Wir erstellen effektive Werbemittel und Banner für Sie, die Sie nur noch freigeben müssen. Wir aktualisieren diese regelmäßig je nach Performance.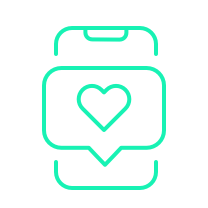 Retention Kampagnen Management
Den User dazu zu bewegen, eine App herunterzuladen und zu installieren, ist nur eine Seite der Medaille. Engagement-Kampagnen sind genauso wichtig für den wirtschaftlichen Erfolg einer App und sind oftmals günstiger als die User Acquisitione (UA). Mit Konzepterstellung und Kampagnensteuerung sagen wir dem User-Churn den Kampf an.
Strategie und fertig? Wir lassen unserer Kunden nach der Marketing Strategieerstellung nicht im Regen stehen und sehen uns selbst als Fullservice-Dienstleister."
– Christian Eckhardt, Co-Founder & CEO
Empowering mobile apps to grow and succeed.
Our goals were to improve their app ranking as well as providing the set of screenshots every month to find the perfect designs that would fit the best its users.