Keep up the date with engaging interactive media
focusing on the latest mobile topics.
Springing into Mobile Marketing Leadership with Remerge and Laura from Customlytics
Our Client Services Lead Laura Spikermann talks about her leadership position at Customlytics, how she got there as a woman working in Tech and shares lessons from her experience. On the Remerge Women in Mobile Podcast Laura shows how to thrive in a mobile marketing agency by creating a healthy work/life balance as well as discovering her leadership style.
Marketing Budget Allocation for Mobile Apps
Our CEO Christian Eckhardt joined Steve P. Young on the App Masters YouTube channel to share insights on how to get started on TikTok, proper marketing budget allocation and channels to grow your mobile apps.
Mobile Growth and Pancakes: What Mobile Marketers Should Know About UGC Ads with Christian Eckhardt
Our CEO Christian Eckhardt joined Jonathan Fishman on the Mobile Growth and Pancakes Podcast (Storemaven) to discuss user-generated content ads and the consequences of working with big brand marketing agencies.
MMA Germany's The Great Debate:
"Can you choose valuable customers for profitable outcomes?"
Our CEO Christian Eckhardt was part of the panel alongside fellow marketing experts Dorit Posdorf (NuCom Group), Patrick Stal (N26 Group – The Mobile Bank), Carlos Anthony Yniguez (Jochen Schweizer mydays Group) and MobileGroove's Peggy Anne Salz, to discuss Dr. Peter Fader's growth framework and why marketers should analyze behavioural data to understand and forecast customer shopping/purchasing activities. Check out the recording of the debate to get some valuable insights.
Q&A: CX at the Center with Christian Eckhardt from Customlytics
In preparation for 'The Greate Debate' with the MMA Germany, our CEO Christian Eckhardt talked with MobileGroove's Peggy Anne Salz about the idea of customer-centricity. Check out the article to get to know what Christian has to say about the broad term and find a video of this Q&A to follow his understanding of always putting the customer experience at the centre of it all more in detail.
Mobile Presence Podcast: 'Harnessing Customlytics' 3Ms To Focus Holistic Approaches And Master Mobile Marketing'
Customer acquisition & retention is top of your mind? Tune in to the new episode of the Mobile Presence Podcast and learn how our new holistic approach to mobile marketing, the Marketing Master Map, can help! Our CEO Christian Eckhardt shares key insights on ways to recognize marketing blind spots and forge new pathways to engage and retain customers on their terms – even on a tight budget.

Click to listen
'How to Master ASO in 2021' with Customlytics, AppTweak & Adjust
Customlytics partnered with AppTweak and Adjust to share the most successful ASO strategies of 2021 from mobile marketing leaders, Delivery Hero and SoundCloud! Discover the most effective ASO tips to enhance your mobile growth efforts in 2021. Watch the recording and benefit from exclusive insights into: how to measure the impact of ASO, the most relevant elements to focus on in A/B tests and real example as well as the main differences between organic vs paid attribution.
App marketing strategies in the retail sector with Airship and Customlytics
Boost your knowledge about app marketing strategies in the retail sector. Customlytics and Airship brought together leading marketing experts who shared insights on the latest personalization strategies, hidden functions in the area of in-app messaging, mobile wallet and video as well as little app finesses that have a big impact on your revenue and growth (German language)!
Podcast with Remerge & Customlytics: A New Map for Marketers Based on the Customer Journey ​
Our CEO Christian Eckhardt talks about the exciting launch of the Marketing Master Map. Learn all about our innovative holistic blueprint for sustainable mobile growth.
MAMA Board by AppsFlyer: Scaling eCommerce App Marketing with Dynamic Product Ads
Listen to Customlytics' Co-Founder Christian talk about overcoming challenges in paid advertising for eCommerce apps with dynamic product ads (DPA). He will walk you through what needs to be done to make the most of dynamic advertising in order to acquire new users and retarget existing users for your app. You will learn which technical setup is needed to run DPA and why your marketing team should start working with DPA today!
Interview with Voucherify: "The marketer's traditional role is changing from repetitive optimization to tech-&creative-oriented."
In an interview with our partner Voucherify, our CEO Christian Eckhardt talks about mobile apps and the future of CRM and marketing. Learn how to get a grasp on the technical fundamentals, which useful tools Christian suggest you work with and more resources for mobile CRM.
Case Study: Customlytics grows UA campaigns on Kayzen as they outperform largest global DSP
We were looking to improve one of our most significant non-gaming app clients' performance. We decided to team up with Kayzen, a mobile specialized player. Our main objectives were getting new installs, converting app installs to valuable subscribers, and improving the existing results on programmatic UA vs. legacy DSP. Since going live with Kayzen, we have reduced CPAs by 58% and have seen an average of 32% WoW increase of installs. Learn more about how we managed to grow UA campaigns with Kayzen.
Personalization: Too Much or Too Little? That's The Question! #GROWTH Europe 2020
How do you leverage analytics and automation to scale personalization across the customer journey? And how do you make sure to get guidelines correct? In this webinar at #GROWTH Europe 2020, mobile marketing experts from Customlytics, MoEngage, Berlin Brands Group, Delivery Hero and Project A discuss personalizing engagement with users, approaching consent from users and the future for 3rd party cookie data.
How to get ROI with TikTok Ads Manager

TikTok advertising has become a key channel for performance and brand marketers looking for a new route to market. At the TikTok Marketing Strategies Europe 2020, Customlytic's Christian Eckhardt discussed app marketing strategies on TikTok with marketeers from the mobile industry.
The mobile user retention tech stack with Peggy Anne Salz, John Koetsier and Christian Eckhardt
In this episode of Retention Masterclass, our CEO Christian Eckhardt is talking with the hosts Peggy Anne Salz and John Koetsier about "CRM" for mobile, the tech that supports it, and messaging formats and channels that help.
Podcast: Business of Apps: User Acquisition with Christian from Customlytics
In this episode of the Business of Apps Podcast, our CEO Christian Eckhardt has a chat with Artyom Dogtiev about user acquisition. He shares practical advice on how to choice user acquisition channels, UA campaign optimization, how to add a new channel right and more.
Podcast: Leveraging Dynamic Product Ads to Grow Your App with Remerge & Customlytics
In the newest episode of the Apptivate Podcast from our friends of Remerge, our CEO Christian Eckhardt is explaining the process of setting up Dynamic Product Ads to you.
Successful Web2App Retargeting Strategies to Enhance Your Performance Marketing Stack
In this video (German language), mobile experts from Customlytics, Remerge, Adjust and AboutYou will uncover the best way to optimize your app performance and experience through retargeting that syncs with your web strategy. It's app retargeting, demystified! You will learn how to align your Web & App retargeting strategies. Also, we touch on the topic of Cookies vs. IDFAs: legal distinctions & implications to be aware of.
How 7Mind Recorded a Massive Uptick in App Installs & User Activity with MoEngage and Customlytics
In this video you will learn how 7Mind recorded a massive uptick in user activity, installs, and all other KPIs they track during from March to May 2020. Together with Mike Barclay from MoEngage and Marta Fogl from 7Mind, we talk about acquisition and whether brands should continue to invest in ads and how to prioritize channel-spend for ROI. Last but not least, we'll take a look at when to launch campaigns, how consumers react, and how to meaningfully engage them.
The Advanced CRM Guide to Growthwith Leanplum and Customlytics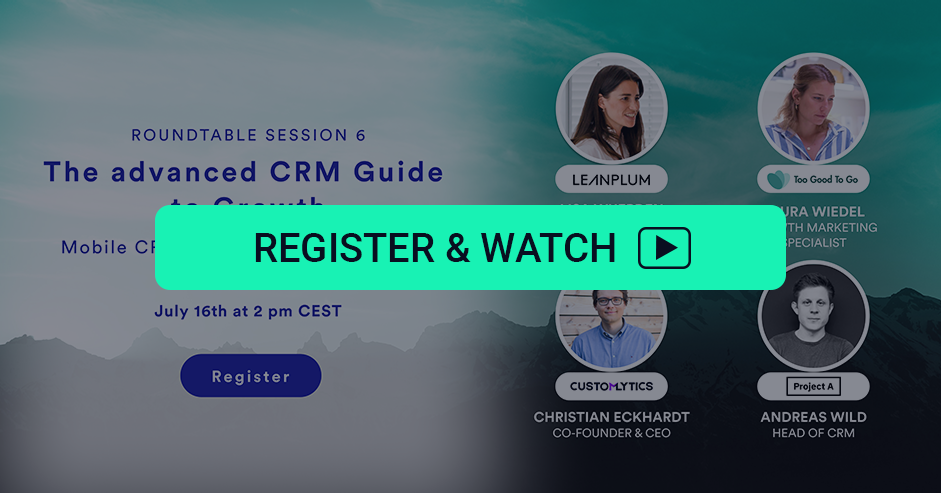 In this webinar, you will learn how to continuously stay on top of your CRM game. Customlytics, Leanplum, Project A and Too Good To Go have come together to compile their years of experience into one informational virtual live session. The experts will be discussing interesting areas of CRM together, with our CEO Christian Eckhardt focusing user retention and giving you advice on how to battle low user retention.
*To watch this webinar, click here. You must complete the registration form to gain viewing access.
The New Rules of Marketing Engagement: On-Demand & Delivery with Clevertap & Customlytics
Join Customlytics, our friends from Clevertap and some of today's foremost marketing leaders as we discuss how they navigate the on-demand and delivery landscape amid a time when #stayathome is encouraged. This webinar is part of an 8-part live video series by Clevertap on the New Rules of Marketing Engagement produced by Peggy Anne Salz and hosted by John Koetsier
Know what to measure - How to use multiple analytics for mobile apps with WGU & Customlytics
Integrating a product analytics tool to your current mobile marketing tech stack setup is a great addition to drive a more powerful mobile marketing strategy, but getting it right can feel daunting.​ What tools should you be evaluating? What questions should you be asking?
Integrating Product Analytics in Your App Marketing Strategy with Customlytics & Mixpanel
Analytics are important. But many product managers still don't understand what data should be measured to tell the real story of their product. In this online seminar with Jonas Kurzweg from UXCam and Mark Waddoups from WGU, we discuss how to set up and use product analytics tech stacks and give you useful insights into the world of data analytics for mobile apps.
Podcast: Setting Up Your Marketing Tech with Christian Eckhardt from Customlytics
Marketing tech infrastructure is the foundation of mobile marketing. But, sometimes choosing the right tech deck can be a challenge. Christian shares his expertise on considerations for building your marketing tech infrastructure.
Check out our other online resources