Author: Alexander Bihn
– App Marketing Content Manager
Mobile programmatic is a fundamental shift in how advertising has been done. Before programmatic, you had a sales team trying to sell publisher inventory to brands, agencies and other advertisers directly. This process was manual and inefficient.
Programmatic technology shrinks the overhead cost on both the advertiser and publisher sides, which has increased their margins. This has opened the door to a huge new market of small advertisers that previously could never afford to buy ads. Programmatic advertising technology also makes it easy to buy audience segments across a varied selection of publishers.
As more people watch video content on their mobile devices, the nature of mobile video monetization is steadily changing. Particularly the rise of programmatic advertising, which we define as an automated, technology-driven method of buying, selling or fulfilling digital display ad placements is notable. 
The, still short, history of mobile app advertising is dominated by the incredible successful way in which platforms with massive user bases, Facebook first and foremost, have managed to offer app developers the opportunity to market their apps and acquire users at scale
Due to the effectiveness and easy availability, prices on Facebook and other first-party platforms are very competitive, especially when advertisers are trying to scale. 
Programmatic Ad Spending Growth
"Overall, mobile video ads sold programmatically generated $19.93 billion in revenues in 2019 in the US and will generate $24.87 billion in 2020.
Mobile programmatic video ads represented 87.1% of total mobile video ad spending in 2019. Roughly half of mobile video ad spending went to native video ads (mostly in-feed ads in social media), which are overwhelmingly sold programmatically. The other half were in-stream ads, including those within YouTube, Twitter, Snapchat and Facebook Watch as well as premium OTT channels like Hulu." – eMarketer
For apps trying to move on from their dependence on Facebook and Google (the famous ad duopoly), Programmatic can be a way to achieve scale and performance. Programmatic is also a popular channel for re-targeting and re-engaging previously acquired users. However, with Apple's decision to limit access to IDFA, this approach has hindered massively since iOS 14.5, or made impossible, in many cases.
However, Programmatic technology can actually save money. Through automation, many tasks have been eliminated making the process more efficient and reducing implementation costs. The technology is also good at finding the best price across a variety of publishers. This frees up teams to focus more on creativity or research, improving the quality of campaigns.
Programmatic advertising enables advertisers to promote their apps across a wide network of smaller apps: according to Liftoff, 98% of mobile app users can be reached programmatically in over 1M apps.
What are the strengths and weaknesses of Programmatic compared to Facebook/Google/other SANs?
Social, Search or Programmatic? By using widespread platforms like Google or Facebook you might not have the option to reach a different, non platform-specific audience. Programmatic gives you the option to reach a new user base. Technically, Programmatic is a marketplace everyone can use. You have your suppliers, who own a website offering their open placements to the "highest bidder." On the other hand there's marketers, who are willing to pay more or less for placements depending on the website environment and therefore target audience.
Brand Safety means having to pay for specific filters on TheTradeDesk, in order to guarantee your stance as a brand. It's a modular system that needs adjustments. You always work from basic data to more detailed filters. As an example: Using Google's platform could also be an advantage because of the available google-specific segments.
Programmatic is very time-consuming due to the manual, granular steering. This needs resources that don't always guarantee a success rate. At the end of the day, you have a ton of data you can analyze, create learnings from for more insights.
The technical know-how and time are part of the game of effectively targeting on Programmatic platforms. How do you evaluate the data to gain campaign insights and adjust them to your advantage? There's a huge selection of detailed placements such as where do installs come from. With Google the attribution is managed differently, but with TheTradeDesk it's very transparent numerically in order to diversify your audience.
What kind of apps can benefit mostly from Programmatic?
Overall as a brand you should never start your advertising campaign with Programmatic. If you have a smaller budget it's easier to use platforms like Facebook. As a bigger brand if you want to broaden your audience horizon you can add Programmatic. You always start on Social, therefore most of the time having the same Business Manager that can target product-specific. Know your brand environment! Even as a smaller app you can use it to diversify your audience with Programmatic. You have endless options as an advertiser to reach an audience based on their interests, therefore creating transparency for your data.
What are mistakes to avoid when starting out? What are the top 3 things advertisers should know/do before starting with Programmatic?
Most importantly: Know your audience. This is something all marketers are preaching day after day, and it still stands the test of time.
View Programmatic as a chance to purchase data segments. Create a persona, who represents your target audience! You can target them with their interests, their age and so many more things.
Another important thing marketers tend to forget is location-specific targeting, which not only includes geography, but also different mobile phone models being more or less popular in certain regions of the world.
This research done by counterpoint illustrates this point, as it plays an important role in targeting the right audience.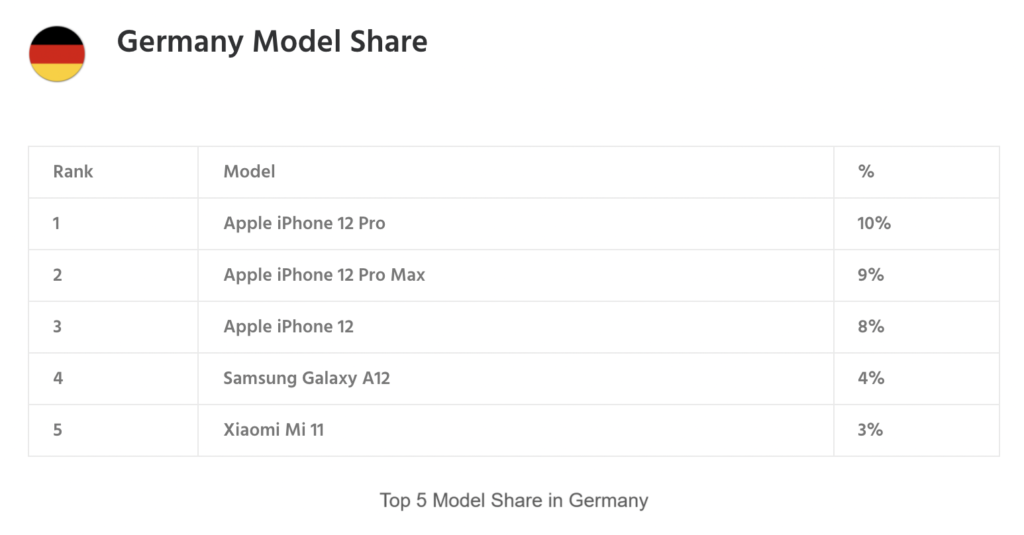 Trust in the algorithm, which optimizes your placements on its own, however the tracking must function! Define important events, may it be upper funnel or down funnel, but bring these tracking definitions into the platform you use for Programmatic Advertising. If you optimize event-specific, you automatically see the most important KPIs.
Is Fraud a big issue?
Fraud is everywhere! If you're able to read into your traffic, you can whitelist the open market. Fraud will always be an important topic when it comes to Programmatic, but we at Customlytics use Anti Fraud Providers, that are very safe and in exchange of a fee, run simultaneously on Programmatic Platforms. One of these providers is DoubleVerify (not available for iOS), who offers products for quality assurance and brand safety in digital advertising. This includes ad viewability, transparency of the environment, brand safety and the avoidance of fraud. These products are aimed at agencies and advertisers as well as advertising media that want to ensure the quality of their product. Having this assistance dealing with something like fraud safety is worth every penny!

App Reputation – How could Programmatic Advertising affect the quality of your brand – it's easy to get "cheap" traffic, but hard to efficiently get good traffic. 

How has IDFA and the rise of no-ID traffic affected Programmatic? Is remarketing still a valid strategy or has it become the exception? 
It would be a lie to claim that IDFA didn't affect Programmatic Advertising. In fact, it didn't work on iOS for months! TheTradeDesk is one of the pioneers when it comes to finding a solution for SKAD. They released the first BETA, that also offers a "click and view thru attribution for SKAD." Up until now we only had click-attribution. Someone sees an ad and gets forwarded into the funnel to landing pages – It's not rocket science.

TheTradeDesk new framework known as Unified ID 2.0 along with a few additional identity innovations, including:
Koa Identity Alliance: This feature automatically optimizes the use of multiple ID graphs, allowing advertisers to expand audience reach and insights across platforms.
Koa for Cookieless: This feature will use their AI to model an impression profile and then target similar users in cookieless environments.
Cookieless Frequency Capping: This will offer the ability to frequency cap campaigns in cookieless environments via the use of cohorts.
Nonetheless cross-device targeting gets left out, but there's an implication:
You're watching an ad, in the meantime you're doing something else and after an hour you will look for the app yourself in the App Store to download it. How much more times does this happen compared to just clicking on an ad? We're claiming that this happens at least 1000 times more often. If that feature is not given, you will only have about 3% of people clicking the ad and another 3% might have accidentally clicked on it.
Now that this BETA is getting tested, you can impact the difference between iOS and Android and possibly get back to a more balanced targeting and therefore usage of the full potential of Programmatic Advertising.
In the past few months we observed that on networks such as Facebook or Snapchat SKAD campaigns perform extremely well. This concludes that with an integration of this tool on TradeDesk it most likely will be an uphill battle of the past.

Want to know more about the implications for mobile marketing? Head over to our blog article
"Apple's ATT requirements come into effect: Here's what we know so far" for more information.
If you want to get started with Programmatic Advertising to optimize your app marketing campaigns, increase conversions, improve engagement and build retention, reach out to us via [email protected]. Our mobile experts have years of experience in Programmatic and can help you to create campaigns users will love.
💡 Knowledge sharing is at the core of what we do. Learn more about the app industry and discover useful resources by signing up for our newsletter or by bookmarking the Customlytics App Marketing blog in English.
📚 We love useful stuff. That's why we co-wrote the Mobile Developer's Guide to the Galaxy. Get your free paperback copy or download the eBook here providing you with all the mobile knowledge you need.
💜  Become part of our community on LinkedIn, Twitter, Glassdoor or Instagram.