Alexander Bihn
Junior Communications Manager
Storytelling is one of the best ways to capture attention and resonate with consumer emotions, who respond best to a well-crafted narrative – something that will never change.
The way people consume content has changed though. As social media attention spans continue to shrink, content formats like Stories have become popular and won't lose power anytime soon. They are short, engaging, and addictive in a way that people can spend hours scrolling endlessly through feeds, one story after another.
The rapid rise of Story Ads
Ephemeral content is something that is available only for a short duration and disappears afterwards. Stories are perfect examples of this type of content. From the rise of TikTok and Instagram Reels, continued engagement on Stories content from Instagram, Snapchat and Facebook to brands creating other short-form content to educate consumers about their brand. 
Stories' short lifespan and interactive elements make them ideal for engaging followers while they're on the go.
For instance take this example of the evident, substantial rise in Instagram Stories' daily active users with over 500 million worldwide, therefore making this growing sales channel a must for your social media marketing strategy – at almost 700 million daily story users, TikTok is the leader. Combined, all of these social apps reach close to 2 billion users with stories on a single day!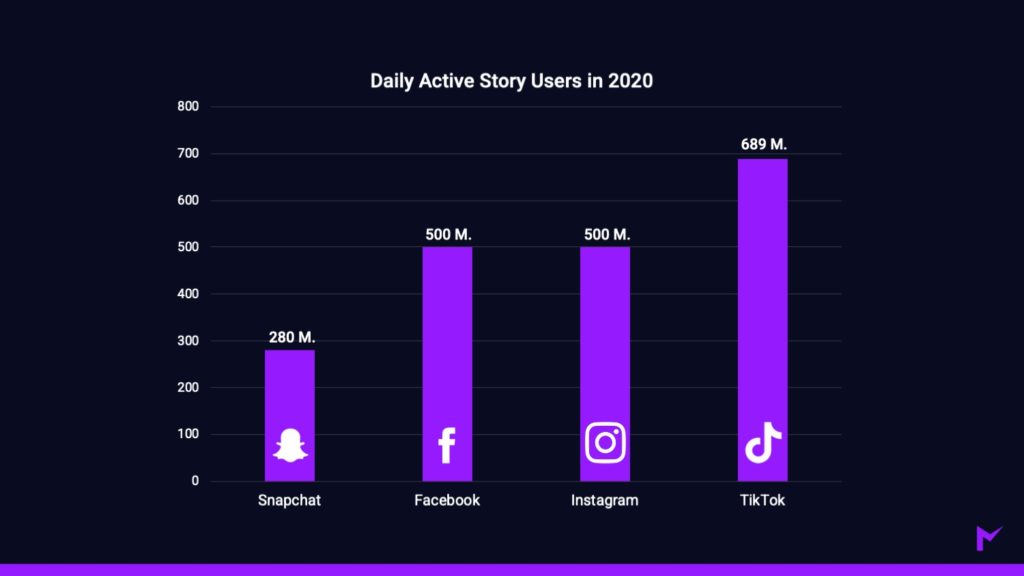 The measures of the Story Ad concept are designed for measurable user interactions, which open up the possibility to continuously optimize your campaigns and guarantee the best possible efficiency. Taking the initiative to market your content via Story Ads is an opportunity to easily adjust KPIs for your Performance-Marketing and we will guide you through the most important aspects.
At this point, marketers have taken notice of this trend and will continue to leverage it to their advantage. The question is: What makes this content so popular, easily digestible, yet valuable content in order to leverage it?
How to market Story Ads
Ad fatigue increases due to the proliferation of all the different platforms. Seeing the same ad on multiple platforms creates "ad blindness". In order to make digital video ads more effective and less annoying, you need to adopt new innovative approaches in how to deliver short video ads. 
What are the most common things hindering clients from starting story ads?
The clients are often stuck in old times, where video ads were lengthy forms of scripted storytelling. To make them understand this, you need to communicate that a forty second ad could be divided into four different Story Ads on social media platforms, ultimately creating more content. Breaking it into parts means getting more output of the time you spent on creating the content. Efficiency is the key here.
Every client has certain expectations for the scalability of these ads. To some clients the only requirement is the performance aspect – not the retention, but the number of trials they get. Cost per acquisition is the particular KPI they're looking for. It's not necessarily about reach, but it's more about the general performance, such as the number of customers. That criteria might only apply for bigger clients, but evaluating a creative, whether it is good or bad – it all comes down to performance.
That being said – this is a general, non platform specific observation we have seen for user acquisition and retargeting. Awareness campaigns for instance have different criteria, such as the time spent watching the ad. Take a thirty second ad, the importance here is that within the first fifteen seconds, the user has to get the message. Therefore it is not important to watch the whole ad, the message can also be delivered within the first ten seconds. A study done by facebook shows the amount of time it takes to attract the mindset of a person is just six seconds.
Over time clients should tend to limit the length of ads to twenty seconds, whereas one year ago this might have been thirty seconds to further illustrate the point of decreasing attention span of users. 
For advertisers to get stuck in the past dwelling on perfectly scripted ads: It's now the time to reduce your expenditure.
Audience-specific content, in particular, will help keep ads relevant to viewers is an issue that remains top-of-mind for many experts. It's not that consumers don't like ads, it is just that when they are served an ad that isn't relevant to them, disrupts the environment they are in.
Contextual advertising is a potentially effective way to improve relevance
understanding the environment the consumer is in and aligning the ad to that specific environment so that it is a seamless and non-intrusive experience.
place a relevant ad that will enhance the consumer's experience rather than hinder it
investing in more frequent, lower-cost creative is more effective than investing more time and resources into producing one
create a campaign that leverages key social networks accordingly while highlighting why your product is so instantly gratifying
split test your ad type, visuals, and copy to understand the best way to get your value proposition across to your audience

Cost-efficient creatives
Scalability might be the biggest challenge as it differs on every platform. Tiktok in itself could be defined as a Story Ad, endlessly scrolling through the short form content. Your target audience on TikTok prefers different, more visually stimulating content. It thrives on rapid visual cuts to convey the message quickly. Instead of spending time and assets into creating perfect video ads, you can reduce your input by the type of visual you create. With animations you're able to scale it by adding and changing a few elements – keep refreshing the content with some easy tweaks. 
Want to know more about TikTok Marketing? Head over to our blog article "Get ready for peak shopping time with TikTok Marketing – In 10 steps to the first TikTok Ad" for more information.
You might be hesitant to scale these ads internally and how much effort needs to be put into them. Initially that is an important factor for the return of value in an ad. It should always be compared with the performance. So filming and launching creatives takes a lot of time – The results might be great, but you have to decide if it's worth it creating this type of content or if reducing the effort and minimizing the visuals to simple animations and typography. 
Creating a template is essential and only takes one or two people. No matter how much resources you put into a Story Ad, the most important part is conveying your message. 
It continues that the better tailored and adapted campaigns are for users, based on specific channels, the better performance marketers and developers see when it comes to installs, sessions and gaining high LTV users.
The addictive nature of short-form content
The human brain is programmed to crave, seek out content to get value from the post without spending too much time looking at it, according to researchers in the neuroscience field. Marketers are selling a lifestyle and must adapt to it. It's straightforward, short-form content that lends itself to being passively consumed and shared on social media. It tends to be visually engaging, consistently posted, and is often used to support overarching campaigns.
It's easy to assume that creating Story content is inherently easier than long-form content, which – to a certain extent is true. But short content creation comes with its own challenges and strategies. Its potential payoffs can be more immediate and wider-reaching than long-form content. It might offer immediate entertainment or enrichment, prompt social sharing, and attract new leads as a result. And certain content mediums facilitate that process particularly well.
Platforms such as Instagram, Facebook, Snapchat and Tiktok have an enthusiastic, highly engaged user base, one more than the other, depending on factors like generational influence. Engagement can include responses, emoji reactions, link clicks and interactions with dynamic elements like poll stickers.
The allure of authenticity and transparency from brands is particularly strong, therefore a clear value proposition with unique benefits the user would get from clicking through to your landing page is essential to the constantly rising popularity of Story-Ads. The harmonious synergy of relevant visuals and a concise copy that's easy to understand is an effective way to make your brand more relatable, approachable, and ultimately, clickable.
More complexity can lead to ad mistakes that reduce campaign effectiveness. Ultimately, this makes advertisers conclude that certain platforms aren't worth their time or are unsuitable for their business. Therefore ad fatigue is far higher on these social advertising platforms. To avoid this, make a few different versions of your video ads. While marketers today increasingly put out platform-specific and audience-specific ads, there is still too much content to keep up with. The average user has accounts on more than eight different social media platforms.
App developers are challenged with finding new ways to reach, acquire, and monetize these valuable users. Unique ad creative that melds with the user experience generates cost-efficient purchase conversions and becomes even more important to grab user attention.
Aren't the prices getting more and more competitive on certain platforms?
Instagram Stories are the most expensive product, therefore the most competitive – but they also deliver and create results. This should tell you that paying more sometimes creates more effective results. You get what you pay for. 
For a lot of clients, Snapchat Story Ads are the best performing ones, not the classic Snap Ads. You can push these more, because the KPI here is App installs – more down the funnel is the trial taken end result.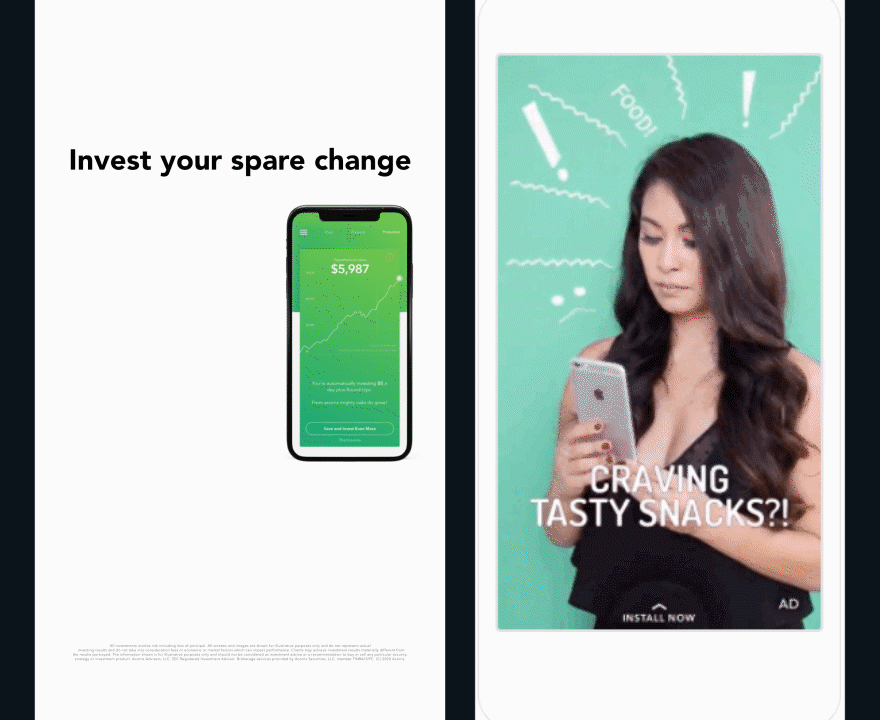 When you're approaching your ads, it's important to know what works on the market and how people will engage with your content. Better targeting normally leads to higher costs per install, which is the downside for small teams with limited budget. Another problem is the tradeoff between precise targeting and costs, especially if you don't know the lifetime value of your customers yet. 
Regarding Brand Safety – It is not advisable to only exclusively run on Story Ads. You should create your presence there, but jumping on the bandwagon such as placing Google Ads is just as important. Story Ads is where users are spending most of their time these days. Ease-of-use also adds up to the usage of them nowadays.
Tell fast-paced-captivating stories users can't help but watch. The better the targeting of your ad and thus relevance of the ad to the viewer, the more they should like your app, which normally has a positive effect on app KPIs like uninstall rate or retention.
If you want to get started with Story Ads to optimize your app marketing campaigns, increase conversions, improve engagement and build retention, reach out to us via [email protected]. Our mobile experts have many years of experience in deep linking and can help you to generate Story Ads with deep links for your app.
💡 Knowledge sharing is at the core of what we do. Learn more about the app industry and discover useful resources by signing up for our newsletter or by bookmarking the Customlytics App Marketing blog in English.
📚 We love useful stuff. That's why we co-wrote the Mobile Developer's Guide to the Galaxy. Get your free paperback copy or download the eBook here providing you with all the mobile knowledge you need.
💜  Become part of our community on LinkedIn, Twitter, Glassdoor or Medium.