Author: Alexander Bihn, Communications Manager
The number of consumers exposed to ads on TikTok nearly doubled from 19% last year to 37% this year as the video-sharing app is constantly growing its popularity.
TikTok is continuously releasing new features that can be leveraged by Marketers as it's turning into the most innovative place for ads among marketers. Just a few weeks ago, the app delivered yet another new feature out of beta that is assisting with overcoming the gap between influencer marketing and traditional paid ads. 
The feature, named Spark Ads, permits brands to pay to enhance an influencer's video across the app. From a holistic marketing perspective, more and more brands are investing in native content as part of their overall marketing strategies.
Creators need to give consent for their videos to be promoted. They opt into the feature by sending a custom video-specific code to a marketer/advertiser that allows the brand to utilize it as a creative asset for a campaign.
In order to prevent the fear of missing out on the benefits of this feature, we wanted to give an overview of what could change in the App Marketing sphere regarding Influencer Marketing and how developers and marketers can refine their performance marketing using ad formats such as Spark Ads.
Benefits of Spark Ads
After a long test-run of the feature ahead of its broader release, it has proven to be another interesting feature on TikTok that marketers could use to their advantage in a variety of use cases. For instance, we have noticed that influencer marketers gladly would use their marketing dollars on TikToker Creators after they make a viral video using their product/app, etc. because essentially it saves them time, effort and money to produce content themselves. The ad creative is already provided and produced and the briefs from the strategists are writing themselves, without having to worry about the outcome in analytics.
Our Paid Media Specialist Bhagyashree says:
"Spark Ads can be an innovative tool to push influencer marketing in a completely different direction. Marketers don't have to work together with agencies, who manage influencers – they simply choose influencers based on relevant product virality."
TikTok describes Spark Ads as follows:
"Spark Ads make up a hybrid format that delivers unique value to both businesses and users. The native styles and features of Spark Ads harmoniously blend with TikTok's vibe, helping businesses achieve fully native and authentic ad experiences, higher campaign results at a lower cost, and ongoing marketing impact in the TikTok community."  ​
Spark Ads shows up at a moment when TikTok is attempting to attest more control over influencer marketing on its platform. As of late, the company updated its branded-content policies for influencer campaigns, banning sensitive categories like fintech and dating apps. This move was made in regards to keep minors from seeing age-restricted content — a challenge on TikTok, where user-generated videos are accessible to all.
Spark Ads offers a very strategic yet fractional solution. Marketers can now apply age targeting to influencer posts so they're marketed to a specific group of age-appropriate users. For brands that can't do branded content, this is also a way for them to do the proper age gating. You can use Auction or Reach & Frequency (Beta) buying to be cost-efficient with targeting, creatives optimization, measurement and comment control through TikTok Ads Manager.

Are Spark-Ads relevant for my business?
Up until now, Spark Ads is essentially being utilized as an add-on to existing influencer-marketing advertising efforts.
You might think that Spark Ads are not relevant for bigger companies, as these companies tend to have a high production value and quality expectation, however, Spark Ads are not only relevant for smaller brands, because they are a native ad format that enables brands to leverage organic TikTok posts. You are providing a better experience and build trust through real accounts that can help grow your audience.
However, Authenticity is the most important thing to TikTok users and with less over-produced campaigns, the audience feels more compelled to interact with Spark Ads than regular ads.
"With Spark Ads, brands can grow their TikTok fanbase by driving traffic to their profile rather than a landing page, which may lead to future engagement, and drive new leads or re-purchase. This is the starting point for building culture and consistency on TikTok."
As an example: If you run Spark promotions for direct-to-purchaser brands that are using TikTok to attempt to drive a specific action, like a purchase these Spark Ads could cost 40% less than traditional in-feed TikTok ads for driving a conversion like a product sale. TikTok's own research on the feature has shown similar results. The company reported a 42% uptick in conversions on Spark Ads compared with its traditional ads.
"We are seeing conspicuous performance lift in…":
Video view metrics: 58% increase on 2s VTR, 66% on 6s VTR, and 30% on Video Play Over Rate compared to non-Spark Ads. 
Engagement metrics(Beta): 170% increase in paid comments%, 100% in share%, and 222% in likes% compared to non-Spark Ads. 
Conversion metrics: 42% increase in immediate CVR compared to non-Spark Ads. 
Cost metrics: 35% decrease in 2s CPV, 39% decrease in 6s CPV compared to non-Spark Ads. 
A win-win situation
Creators may also have more to gain from partaking in a Spark Ads campaign versus a traditional influencer-marketing initiative.
Spark Ads is primarily being used as an add-on to existing influencer-marketing campaigns and most brands pay Creators for the use of their content in Spark Ads, but some creators might even be willing to do it for free in hopes that they will gain followers by having their videos and accounts pushed out to more users, depending on how much money a brand puts into the ad. 
You can use Spark Ads if you intend to partner with influencers to increase brand awareness, grow your TikTok fanbase, address unintended clicks and close the gap between clicks and conversions. This is another opportunity for creator monetization, an early step to ad-revenue sharing. You have to give the creators creative freedom to produce content, but give them general guidelines or inspiration to follow.
On their business blog, TikTok has linked some use cases of companies that have already used the Spark Ads, which proves the relevance for mobile companies to take advantage of this new format promoting their apps.
"Time will tell how Spark Ads will develop and prove itself to be an innovative tool to push installs for app developers. It definitely sheds new light on performance marketing using Influencer Marketing without having to worry about ad creatives and strategies to perform well. Marketers simply put more money into something that is already being provided by Creators!"
TikTok Promote
Another recently released feature is Promote, which helps businesses reach more people and grow their community. The idea is to turn your organic TikTok video into an ad, directly within the app. It is recommended to promote videos, which have already reached some virality, so you can start reaching new audiences, build a larger following, and drive traffic to your business website.
Just like the marketplace you'll get insights to fully understand your audience and how the ad can help you in reaching your goals. You can set a goal for your campaign like more views, website visits or follows, set a budget and length of time to run the promotion, and select a specific audience you want to reach with your video or use the default setting by TikTok.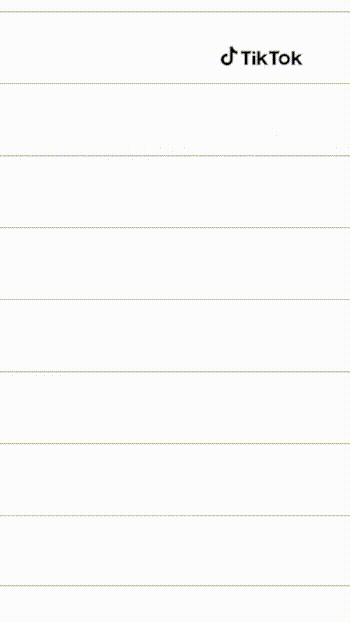 TikTok is testing Stories
This week, TikTok confirmed it's piloting a new feature, TikTok Stories, which will allow it to explore additional ways for its community to bring its creative ideas to life. As Twitter's own Stories integrations, Fleets shut down earlier this week, TikTok is around the corner trying out the Story format.
Supposedly, the TikTok Stories will appear in a left-hand sidebar and allow users to post ephemeral images or video content that disappears after 24 hours, just like any other platform uses the ephemeral feature. Users can also comment on Stories, which are public to their mutual friends and the creator.
However, TikTok needs to moderate and adapt the community guidelines that result from launching an "ephemeral" feature, since we have seen multiple times that TikTok strikes its creators with community guideline violations, oftentimes unprovoked. Story Ads leave much less time for a community guideline response.
Stories on TikTok may make more sense than they did on Twitter, as TikTok is already known as a creative platform and it gives the app a more familiar place to integrate its effects and most importantly eventually, advertisements. It also gives TikTok a much larger surface where advertisers could eventually run advertisements. Story ads on Facebook, Snapchat and Instagram reach close to 2 billion users on a daily basis, so it only makes sense that TikTok wants to implement a similar feature.
We have talked about Story Ads as an effective marketing resource before and labeled TikTok as part of the Story format sphere. As social media attention spans continue to shrink, content formats like Stories have become popular and it wouldn't surprise us if later this year Stories on TikTok become a reality in Beta testing.
Want to know more about Story Ads? Head over to our blog article "Why mobile users are addicted to Story Ads" for more information.
With a promising projection of future performance for ad formats, TikTok might prove to be a trailblazer in modern advertisement, leveraging its creators for cost-efficient ad formats. We at Customlytics can't wait to see what the platform has to offer, as we always try to provide our clients with the best possible option for their advertising needs.
If you want to get started with Spark Ads to optimize your app marketing campaigns, increase conversions, improve engagement and build retention, reach out to us via [email protected]. Our mobile experts have many years of experience in deep linking and can help you to generate Story Ads and Spark Ads for your app.
💡 Knowledge sharing is at the core of what we do. Learn more about the app industry and discover useful resources by signing up for our newsletter or by bookmarking the Customlytics App Marketing blog in English.
📚 We love useful stuff. That's why we co-wrote the Mobile Developer's Guide to the Galaxy. Get your free paperback copy or download the eBook here providing you with all the mobile knowledge you need.
💜  Become part of our community on LinkedIn, Twitter, Glassdoor or Medium.