Kristoffer Kampitsch
Digital Marketing Manger
Linda Harnisch
Communications Lead
Is TikTok the new marketing mecca for brands? The popular short-video platform has become an integral part of the social media marketing mix for many creators, influencers and brands alike. The latest available official statistics show that TikTok clocks in 500 million users (MAU) globally. Kid us not, TikTok presents an enormous opportunity to brands and advertisers when it comes to promoting their mobile apps.
What makes the platform so special and what kind of strategy should you cook up once you decide to include TikTok in your app marketing strategy? We will discuss exactly this with Kristoffer Nilsson Kampitsch, Digital Marketing Manager at Shpock who recently joined us and fellow app marketing experts on the panel How to Get ROI with TikTok Ads Manager at the TikTok Marketing Strategies Europe Summit.
Welcome Kristoffer and let's get this interview started!
Let's kick this interview off by introducing yourself, Kristoffer. Can you tell us a bit about how you entered the world of marketing, mobile apps and how you came to Shpock?
My mobile marketing career started around 8 years ago with an internship at an app start-up focused on small scale games. Mobile UA was still very much in its infancy back then and it didn't really take off for me until I joined Shpock, a marketplace app, a couple of years later. Since then I've gotten the opportunity to work with a broad mix of social channels and touched upon everything from mobile measurement platforms to mobile fraud.
Can you give us some context on how you have integrated TikTok into your digital strategy at Shpock? How long have you been using the platform?
Sure, we were actually one of the early adopters and signed up for the very first advertising beta in Europe. To be honest, what first attracted us to the platform other than the "media buzz" was the opportunity to get some quick wins. We figured there would be less competition participating in the auctions and what we saw was very much aligned with our initial expectations.
However, as prices on the platform rose we had to shift our focus and move the channel a bit away from supporting our growth goals to also supporting us deeper in the marketing funnel. Here is where we initially struggled a bit and my guess is that a lot of advertisers may do the same. 
"In the end, TikTok might not be for everyone. At least not yet and I would argue that success is as much dependent on your app as the audience you want to reach on TikTok."
Luckily for us we are a very broad marketplace, meaning we support classified verticals as well as more traditional marketplace categories. So, we saw an opportunity in driving engagement to certain categories where frequency and volume triumphs over low-frequency high order values. So we continued experimenting a bit more niche-focused and today TikTok is an integrated part of our online marketing mix, supporting scale and ROI.
What were the first steps you had to take to grow your TikTok audience?
Like with all new channels we had to run some tests in order to get it somewhat right. Luckily, TikTok's ad requirements are similar to that of other social platforms, so it was relatively easy for us to transfer the best performers from other channels. We just had to do some minor tweaks like changing "swipe up" voiceovers. This actually allowed us to get up and running some tests relatively quickly and without spending too many resources on coming up with new concepts and developing completely new creatives.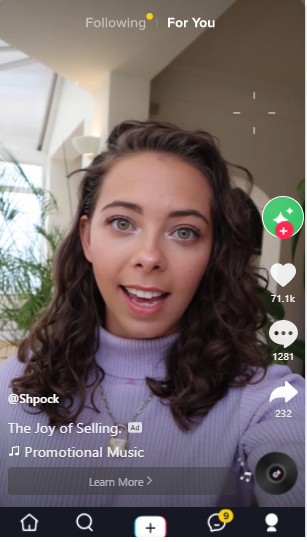 However, as time went by we started seeing some trends and noticed that certain ad types worked better for us. For example and maybe not too surprisingly, creatives more native to the app itself seemed to perform better. Which moved us a bit away from our traditional ad types to experiment with some influencer networks and with TikTok's marketplace where you can reach out to creators directly. The marketplace should now also be out of beta so anyone interested should be able to gain access.
Maybe also important to mention is that we needed to work a bit more on our campaign structure. As TikTok's ad platform does not allow you to directly optimize for post-install conversions, we created some additional splits to try and avoid falling in the "CPI trap". Where you shift budget to campaigns with cheaper CPIs without much overview on overall performance.
Today, TikTok supports sharing post-install events via your MMP (Mobile Measurement Partner), making it easier to at least monitor ROI or set up proxies for your return on a campaign level and directly within the interface. We also experienced some struggles with the marketing API but this has developed relatively quickly.
Let's talk about some statistics. Can you say something about the target demographics on TikTok? 
I know that Bytedance recently released a message about engagement being high among 24-35 year olds on TikTok. Wonder why? But I think some more recent studies from eMarketer and Business of Apps suggests that a large proportion of TikTok's user base is between 13-6 and 17-21. 
I'm sure a TikTok contact can get you more specific data for your specific region but overall I think it's fair to say that the audience is predominantly young. Late millennials/early Gen Z's, which impacts the communication on the platform.
How would you describe Tiktok's audience in terms of targeting and purchasing power? Is it similar to other platforms or anything out of the ordinary here?
Targeting options on TikTok is very much straight forward and in line with that of other platforms. Meaning you can target "TikTokers" based on geo and basic demographics such as gender, age and language. There is also the option to run interest targeting and work with audience lists. But in my experience, TikTok is still not as sophisticated as some of the more traditional online channels when it comes to interest targeting.
I guess it breaks down to how much data the network has and how they are able to collect it. Different from, say for example Facebook, a lot of "interest data" on TikTok would be based on the content you consume or engage with on the platform, which might not necessarily reflect what you are interested in buying or consuming outside of the platform.
When it comes to purchasing power I guess it would heavily depend on your app and the service or product you provide. I can just speak for Shpock and we are seeing competitive performance but are not able to operate as broadly as on the more traditional online channels. 
If the audience is really that young, do you think users get bored faster and need a higher turnover of ads? That means, do I need to change my ad inventory more frequently than on other channels? What's your experience?
I think this is somewhat true. True in the sense that we have seen somewhat higher ad fatigue on TikTok compared to other channels – forcing us to run more variations of videos. 
In the end, TikTok is all about short and highly engaging 10 sec videos. Not necessarily the most advanced, high resolution, quality videos. Leaving you with fewer options to run statics, longer explanatory videos and making the native environment very dynamic and quick.
"I do not believe that ad fatigue correlates with the age of the audience. I think it's as much dependent on how the platform works, your targeting and the creatives you run."
There are workarounds for scale and you do not always have to come up with a completely new concept or create completely new videos to maintain it. If something works you may want to consider minor tweaks to your videos. Changing something as simple as the background color or the first seconds of a video can leave you with a refreshed inventory. You must remember, most of the people you reach will not watch beyond 3-5sec of your ad anyways. So refreshing only the first few seconds may save you tons of resources.
What are some of the creative ways brands like Shpock use TikTok to effectively reach their audiences? Advertisers can take the influencer marketing route, or take advantage of the platform's targeted ad solutions. Which of these have you already used and what's your verdict?
We tried out both and I would say it's a bit dependent on what you are looking to drive. This is not related to TikTok directly but more influencer marketing in general and some of the pitfalls I see is definitely related to targeting, control, quality and risk. The platform itself is also limited when it comes to influencer marketing, leaving you with less options to add CTA links directly in the videos of creators.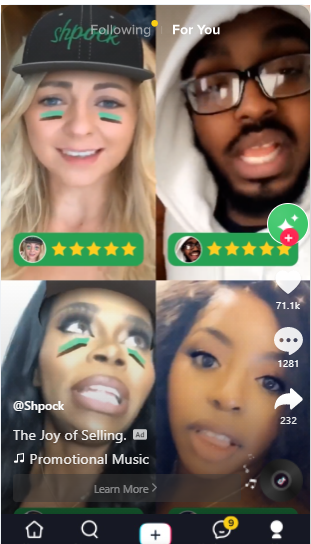 So if you want to drive direct response, have more control of your costs and the quality of your creatives the self-serve ad platform would be my recommendation. If you on other hand looking to drive awareness, reposition or associate your brand with a set of values – influencer marketing may very well be the way to go
I touched upon this before but something we tested and found worked quite well for us was a combination of the two. Meaning we converted, cut and mixed some of the influencer co-operations we did – allowing us to have fresh and more native content that we could target beyond the influencers following. 
Which benefits and rewards do you see using TikTok for UA? Let's say, compared to other platforms such as Facebook and Instagram.
I think the biggest benefit TikTok offers to the marketing mix as of yet is the audience and reach on the platform. As mentioned, they are not as sophisticated in terms of targeting and compared to some other platforms and their marketing API is still developing. 
Yet, TikTok is reporting some interesting growth and time spent on app metrics. And, if you allow me to get a bit philosophical on the time spent I think it's important to also consider how users spend time on social platforms – and here I think TikTok is differentiating themselves a bit.
Because whether it's stalking your ex on Instagram or checking what your mom posted on Facebook, most platforms are used to keep up with people we know or follow. This is reflected in some reports, suggesting that time spent is often within chat functions not in discovery. Which is completely different on TikTok where users tend to be spending more time on the "for you page" exploring new content rather than chatting. 
I think this makes the environment less intrusive to ads and users potentially more open for new things. Considering that most videos on the platform is also around 7-12seconds long, your 5-10seconds app install campaigns should be able to blend in quite well within the organic content.
So, if you are having problems reaching a certain segment or specific audience on other platforms, TikTok might add to your marketing mix. Potentially there might also be a bit less competition in the auction within some app categories leaving you with cheaper CPMs.
In a time when resources are tight, what's a ballpark budget for starting to advertise on TikTok, what kind of budget do I need?
I think you will get very different answers depending on who you ask. It would also be very much dependent on what you are looking to test and your overall marketing budget. Compared to other platforms, one benefit is definitely that there are quite low minimum budget requirements (€20 day/ad group), allowing you to quit, stop or change a test whenever you want. As already mentioned, the ease to transfer creatives from other platforms should also lower any barriers for a test in case you are tight on design resources.
Last question 🙂 I am a brand and I want to start promoting my app on TikTok. Where should I start, what's your tip?
Other than signing up on the platform – inform yourself and test, test, test.
A lot of people seem to skip the first and last steps. Meaning they go in cold, run one test and then make a judgment call. It's really not rocket science – simply start by downloading the app, play around with it and try to get an idea about how your brand could engage on it. Also, it's not very often you hit the jackpot on the first try, so be ready to test more than one thing. 
Thank you for the insights, Kristoffer!
💡 Knowledge sharing is at the core of what we do. Learn more about the app industry and discover useful resources by signing up for our newsletter or by bookmarking the Customlytics App Marketing blog in English or German.
📚 We love useful stuff. That's why we co-wrote the Mobile Developer's Guide to the Galaxy. Get your free paperback copy or download the eBook here providing you with all the mobile knowledge you need.
💜  Become part of our community on LinkedIn, Twitter, Xing, Glassdoor or Medium.