An innovative framework for mobile growth strategies.
Today's challenges for marketers are complex, especially in the fast-paced mobile ecosystem. We wanted to create a new framework for growing in this environment. This is the Marketing Master Map – it solves complexity for mobile marketers and provides them with real answers for their
growth challenges. No more theoretical concepts, but a clear, actionable blueprint to get to work!
Watch our Meetup session with
Christian
as he walks you through the Marketing Master Map!
The
benefits
of applying the Customlytics Marketing Master Map to your business. Your holistic marketing blueprint
Align all of your marketing activities across the entire customer lifecycle, from awareness to advocacy. No more blind spots
Identify growth opportunities across departments, channels, and technologies.
Mobile growth made easy
Validate your current strategy against the Marketing Master Map to understand which activities you should continue, start or stop doing.
Complete the form to receive your
free
copy of the Customlytics Marketing Master Map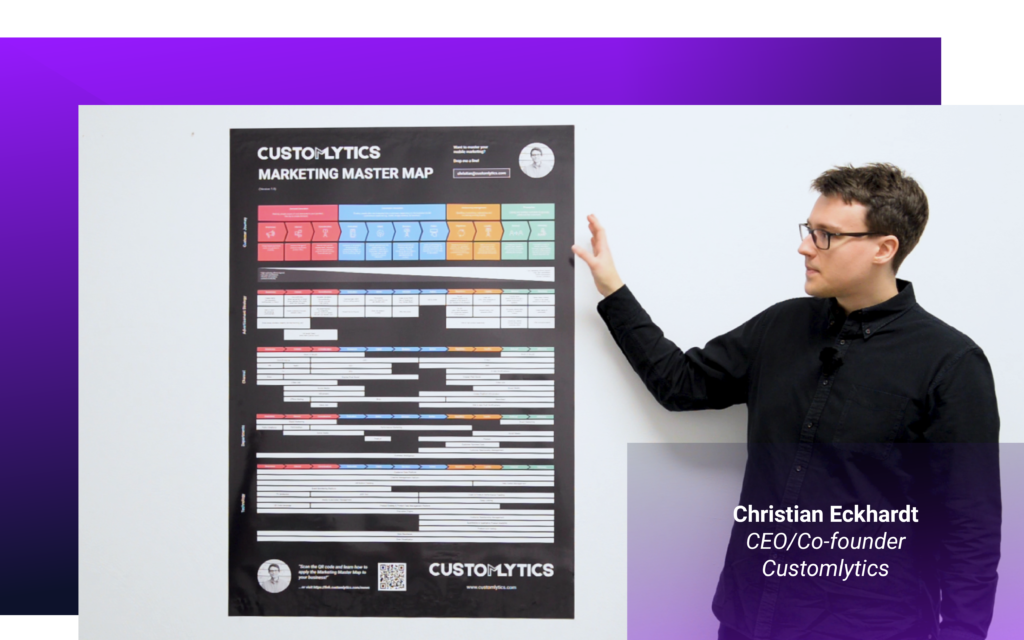 Customlytics Marketing Map is size A0 (84.1 x 118.9 cm)
So, how does the map work?
Don't worry,

Christian
will break down each section of the Marketing Master Map!
The customer journey with its four stages is the foundation of the Marketing Master Map. Christian guides you through each of the stages in this video.
In this video, Christian explains to you what advertising strategies can be used to reach specific objectives at different stages of the marketing lifecycle.
The next in our video series focuses on marketing channels and how to look at the bigger picture when optimizing across channels.
In this part, Christian shares tips on how to organize teams successfully for moving mobile users down the funnel.
Last but not least, you will learn all about technologies that can support your marketing strategy at each step of the funnel.
Do you have any
questions
about the Customlytics Marketing Master Map?