Mobile Customer Retention Management (mCRM)
Automated and purposefully targeted mobile CRM campaigns allow you to address your users in every stage of the life cycle; starting from prospect and engagement stages, to subsequent loyalty, churn and win-back stages.
Why you need a CRM strategy for your app
Did you know that 8 out of 10 users are inactive three days after the app install? The majority of acquired users uninstall during the first few days. And those users who stay may not use your app frequently.
Once your customers have been acquired it is essential to develop a sustainable, long term relationship with them. Since acquisitions are usually costly you want to keep your customers enthusiastic about your app in order to retain them in the long run. Similar to traditional marketing approaches, Mobile Customer Relationship Management uses lifecycle campaigns to target users with relevant and entertaining communication.
It is now more important than ever to have a strong relationship with your customers to maintain sales performance.
We support you not only in finding the most suitable CRM provider for your needs, but also in creating an extensive mobile campaign strategy. Moreover, you may reach out to us for recommendations when it comes to all kinds of other mCRM related topics such as boosting your push opt-in rates or creating campaigns to optimize app store ratings.
Retain and engage users with relevant and data-driven communication
In order to create long term relationships with your users, you need to develop personalized campaigns and communication based on data.  App usage patterns, as well as individual user preferences, serve as guiding principles when creating user segments and relevant messages. Customlytics is able to help you identify those indicators and utilize them within your mobile campaigns. Our overall aim is to establish a data-driven communication concept that is based on true user insights instead of poorly made assumptions.
The most important aspect when creating this strategy is the immaculate definition of attributes and events. Only an attribute and event scheme that includes all relevant data allows you to purposefully target your campaigns and create the corresponding segment.
Deliver the right message at the right time
Custom designed targeting plays another important role when it comes to your mCRM success. We support you in defining the key attributes of your customers in order to ensure your messages reach the people they're written for.
Last but not least, timing is an important element in the campaign creation process, which is often overlooked. Depending on your campaign's objective you may want to choose between a scheduled send time, a recurring automated campaign or individually defined events that trigger a communication. API connections allow external events – e.g. interactions on your website – to act as designated triggers exactly the same way as in-app events.
Choosing the right communication channels
Traditional channels such as email and SMS are complemented by new mobile channels such as push notifications and in-app campaigns. Additionally, Browser Push Notifications are playing an increasingly important role when it comes to reaching digital native target groups.
CRM tool integration and maintenance service
A CRM tool is a prerequisite in order to automate and scale campaigns. Customlytics provides you with a CRM provider benchmarking process based on your app-specific needs. We also support when it comes to contract negotiations or SDK integration. Moreover, we create a comprehensive and customized tracking and event concept, that helps you collect and analyze all relevant metrics in the long run. Our technical integration service includes preparing the integration for your developers, supporting the integration of the CRM tool and closing the integration with a QA (quality assurance). 
Last but not least we offer ongoing support with your CRM activities, e.g. fully executing your campaigns, defining user segmentation to identify what type of messages, channels, triggers you will be setting up. Weekly reportings provide you with full transparency.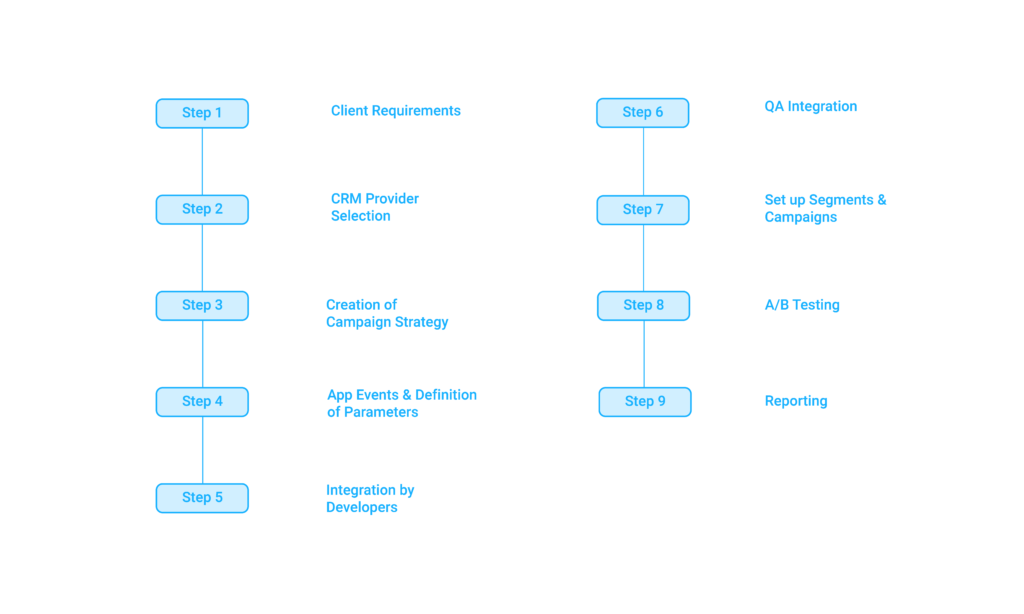 Automation: Finding the right tool provider
Our philosophy is to lead for results with data and automation. Here are the top picks that we use and would recommend to you as well:
We can optimize your campaigns.