Authors:

Linda Harnisch
– Communications Lead
Isabella Zulli
– Former Design Lead at Customlytics
Wondering how to scale up your paid user acquisition by setting the right goals and metrics from the start?
Jeder (App) Marketingmensch weiß: Für eine erfolgreiche Strategie zur Nutzergewinnung, braucht es zu Beginn Zielen und Metriken, die festgelegt werden. Besonders dann, wenn man mit bezahlten Marketingkampagnen loslegen will, die bei der Nutzergewinnung für mobile Apps unerlässlich sind. Die Anzahl an Acronymen im bezahlten App Marketing kann dabei lang und verwirrend sein. Deswegen haben die App Marketing Experten von Customlytics hier eine praktische Liste mit allen Zielen und Metriken zusammengestellt, die man beim bezahlten App Marketing im Blick haben sollte. Wir hoffen, sie hilft euch weiter! Weiteren Lesestoff zum Thema User Acquisition für mobile Apps findet ihr hier:
Auf dem Blog: Welcher Kanalmix ist der richtige für das bezahlte App Marketing?
Customlytics eBooks: User Acquisition & Retargeting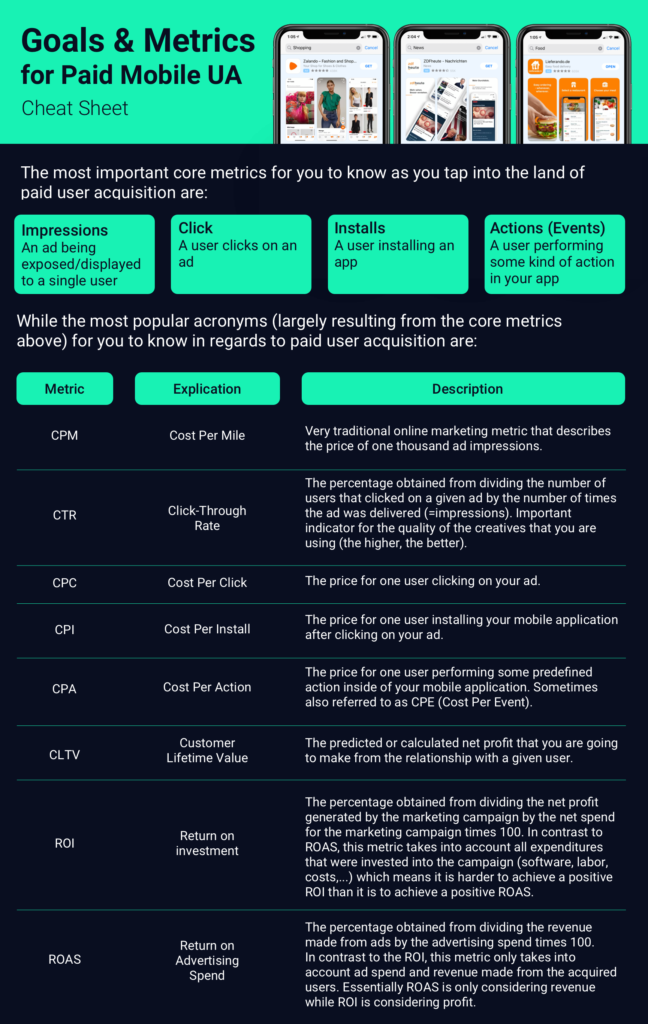 Was sind Eure aktuellen Herausforderungen, wenn es um die Messung eurer App Marketing Kampagnen geht? Wir konnten bereits einigen Marketing Teams dabei helfen die richtigen Ziele und Metriken für ihre Performance Kampagnen zu finden. Zum Beispiel diesen Kunden. Gerne unterstützen wir auch Euch dabei euer mobiles Produkt noch effizienter zu vermarkten!