Stimulating user engagement with efficient push notifications for Telekom Hallo Magenta
Helping Telekom Smart Speaker app Hallo Magenta reach higher user loyalty.
The Telekom Smart Speaker is a convenient voice control for your home. The accompanying Hallo Magenta app helps users set up the Smart Speaker. Users can use voice control to control various things such as MagentaTV or check the latest news, take calls and much more – all with their own voice. In this case study, we talk about the Mobile CRM strategy, especially push notifications, that Customlytics created for the Hallo Magenta app.
In order to deliver the right communication to the users at the right time, hypothesis testing has to be carried out. The learnings that are generated specialize in answering questions such as:
What do users react to?
Which contents are they interested in?
When are pushes most popular?
Which approach is the most catchy?
Through weekly editorial push-notifications, important topics can be addressed in a flexible and timely manner. Outside of the automated flows, the resulting content marketing can thus explicitly highlight topics such as new skills or NPS surveys on customer satisfaction.
With push notifications tailored to users, including complementary imagery, we encouraged users to use the Telekom Smart Speaker regularly, to recognise the variety of use cases of the speaker in everyday life. Users should be informed about valuable features and functions of the smart speaker in the app. MoEngage provided us with the right platform to test different hypotheses for sending push notifications and measure our success.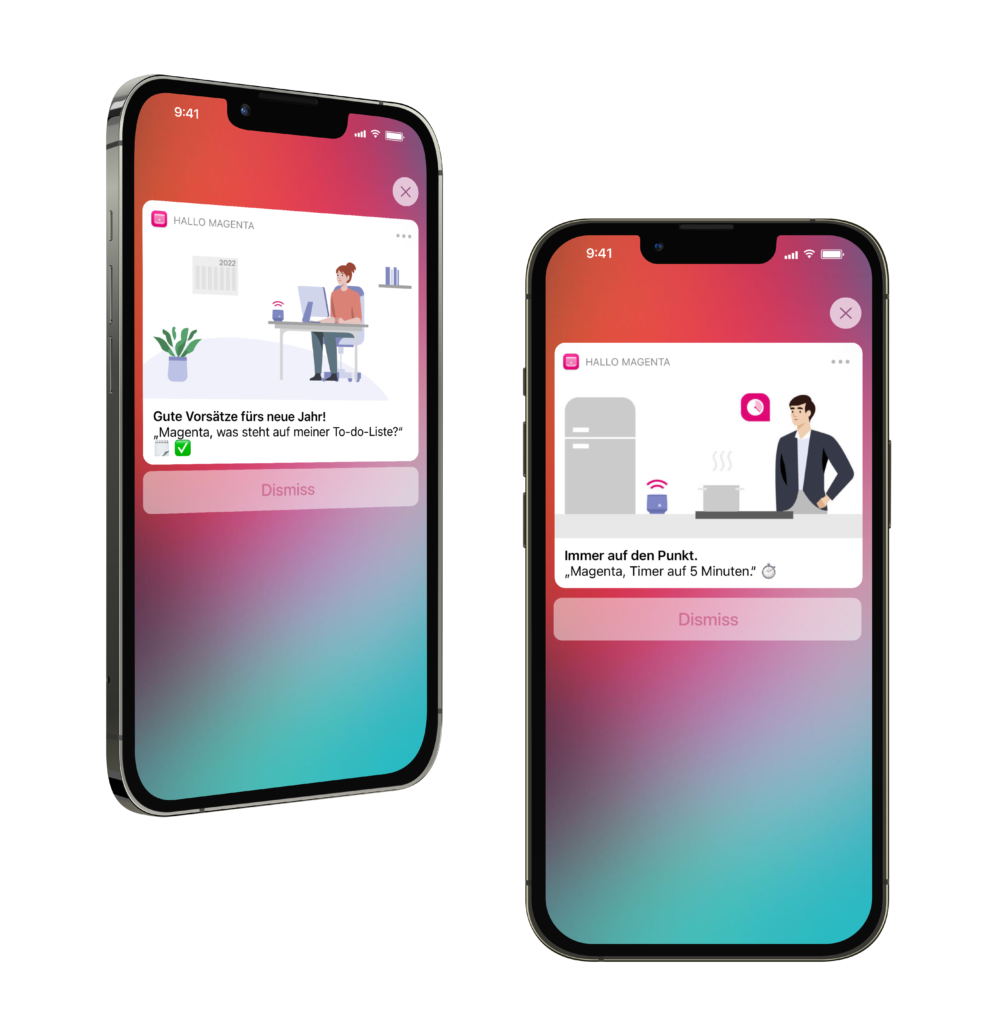 Customised push notifications successfully encourage users to open the Hello Magenta app and entice them to actively use the Telekom Smart Speaker on a regular basis. The following learnings for optimising CVR and CTR were generated: Different sending times, different user segments, A/B testing for text versions, as well as push notifications with and without images. In order to successfully educate users about the use of the device, testing is an elementary component of success.
With push messages, we could ideally respond to users, their preferences and status within the customer lifecycle. Our messages were always helpful for the recipients, which led to more intensive use of the app and the smart speaker.
Adrian Kasprzak,
Former Mobile CRM Lead at Customlytics
Background
Encouraging the user to use the Telekom Smart Speaker regularly and keeping the engagement high.
Highlights
What makes this campaign special?

• Effective use of push notifications
• The importance of customisation and testing
• Increased attention from users
• Define optimal efficiency through variety of push notifications
The Client is transferring the usage of their smart home system to the cloud based App MagentaZuhause (Google Play / App Store) and is therefore continiously working in partnership with Customlytics to further develop an updated strategy in a sophisticated manner.
Looking for a more in-depth view of Mobile CRM? Take a look at our other CRM case studies we did with our client Telekom!
Learn more about how you can
effectively use push notifications
Looking to automize your own mCRM campaigns? Leave it to us.