Anna Priester
Content Marketing Manager
With major privacy changes in 14.5 early this year, Apple shook up the app economy. Mobile marketers have been facing challenges on how to adapt their app marketing strategy in regards to UA and retargeting in a post-IDFA world ever since. Therefore they should be more than happy with few new features available with iOS 15 arriving this fall that make their day-to-day work as mobile marketers easier again.
Let's take a look at which ones those are and how your app business can benefit from them in the future!
Relevant new features available with iOS 15 for mobile marketers

SKAdNetwork postbacks – Data ownership around app installs and post install events
Apple announced several privacy updates – among those is a welcome update in regards to SKAdNetwork and better transparency for advertisers. Advertisers now can take ownership of their critical data as they are allowed to receive a copy of postbacks for "winning" app installs. Before, it was the ad networks that managed postbacks: they were sent to ad networks only, and then forwarded to the advertiser or MMP (mobile measurement partner) on the advertiser's behalf. Getting data right from the source is extremely valuable. This change was overdue and solves a key concern regarding SKAdNetwork.
You should test the postback copy in beta version to be fully prepared for the official release of iOS 15.
App Privacy Report
A new section in Settings now tells users how often apps have accessed their location, photos, camera, microphone, and contacts during the last seven days. Even more: It shows them which apps have contacted other domains and how recently they have contacted them. This is great news for users on the way to take more control of what they share. However, mobile app developers need to be aware of this and be sure to communicate very clearly which access they need for the app's functionality and the 'Why' to avoid a negative impression.
ASO & UA Updates: Product page optimization (PPO), A/B Testing, Custom Product Pages
Product Page Optimization with native A/B testing
On iOS 15, mobile marketers can employ a variety of treatments to creative assets: the app icon, screenshots, and preview videos to A/B test what users like the most and to determine which change most drives conversion. This is very good news as you don't need to rely on conversion optimization via Apple Search Ads creative sets, using third-party testing, or placing new bids to compare metrics before and after the change as before. Limiting the number of assets changed to one per test cycle will help eliminate variables, making it easier to isolate which singular variation is most successful in improving conversion rate. Each test can run up to 90 days, and both during the cycle and upon conclusion the results can be monitored and compared to baseline performance in App Analytics. Tip from our ASO managers: Avoid A/B testing with several elements and changes at once – that will make it difficult to identify what elements are successful in which test and how to adapt these results to achieve the highest possible conversion rate.

Custom Product Pages
Marketers are given new tools to develop their paid UA strategy on iOS 15: You will be able to create more relevant, Custom Product Pages on the App Store that can be tailored to specific target audiences and linked to individual campaigns. How? By creating additional versions of your App Store product page that showcase different features or content within your app to users with different demographics, interests and preferences. This can include varying promotional text, screenshots, and app previews that are different from those on the default product page. The tailored messaging has the potential to boost your paid UA conversion rates and return on ad spend significantly. To monitor the success of each Custom Product Page, you should concentrate on impressions, downloads, conversion rate, and more in App Analytics.
In-App Events
Next to the Custom Product Pages, In-App Events hit the App Store. It's Apple's new feature to show users events that are running in apps, like in-game events or a movie premiere. Developers will be able to use this feature to promote timely events to users – on an ongoing basis not limited to only existing users who opted-in for push notifications. These events can be showcased on the app's product page. Users will be able to learn more about the events, sign up to be notified or quickly join the event, if it's happening at the moment. Even better: they can discover events in editorial curation, with personalized recommendations and through App Store search.  This is a new way for mobile marketers to showcase events and expand their reach to either reach new users, keep current users informed, or reconnect with previous users.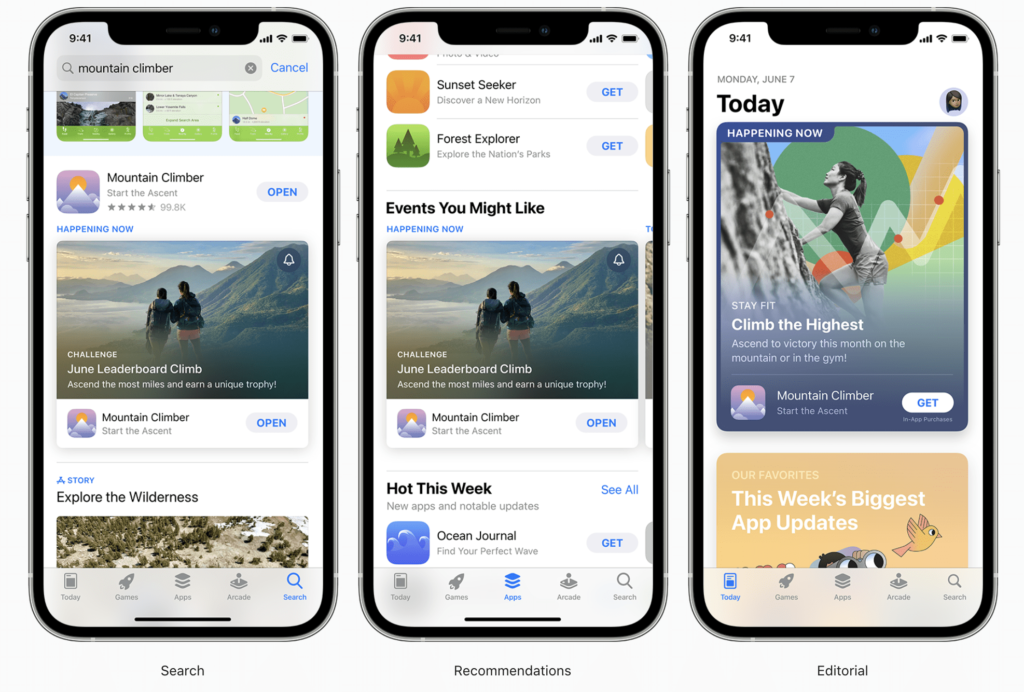 On our App Marketing blog, you'll find a comprehensive overview of the latest changes on the App Store on iOS 15 that can have a big impact on your UA strategy.
CRM Updates: Notifications Redesign 
Sensitive Notifications
iOS 15 brings many changes to the push notification experience of users. For developers, there is a new notification API, allowing them to send Time Sensitive notifications and adopt the new look for notifications coming from people. You now can create meaningful moments with interruption levels and can make sure that your users receive important updates from your app right on time with Time Sensitive notifications. Users receive Time Sensitive notifications immediately so that they won't miss out on timely alerts like a fraud alert, a car waiting outside, or a reminder to go pick up the kids. This new feature makes push notifications less intrusive and more helpful with greater value.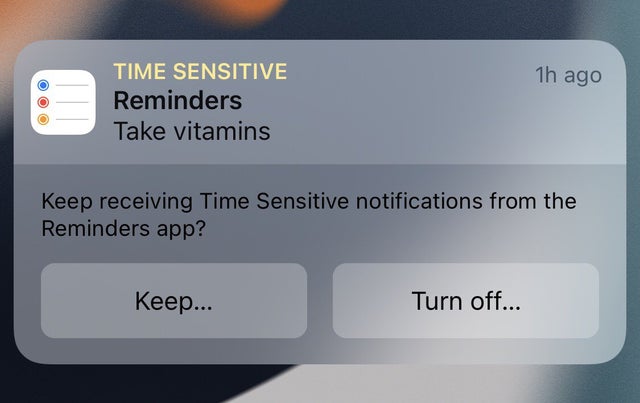 iOS 15 from a user perspective
iOS users can already get a glance at what Apple's new major software update will look like. They have the possibility to install iOS 15 beta 4 through Apple's public beta program.
There are quite a few new tweaks for Public Beta 4:
Icons have been updated including Notes, Notifications (in the Settings app), and the Camera icon on the home screen
Focus mode  lets users filter notifications and apps based on what they want to focus on 
There's a new option to disable notifications popping up while screen sharing
Memories generated by the Photos app can be shared  
Here's a long list of all new features and changes. 
But users need to keep in mind that with any beta software bugs, horrendous battery life and broken apps come along. There are still three, possibly four, more rounds to go before the official release of iOS 15 this fall, likely with the iPhone 13.
The main reason to release betas of its upcoming operating systems is for Apple to give developers the ability to test their apps with the new updates. Updates that get available in public beta form still aren't completely stable and ready for day-to-day use. Developers might haven't optimized their applications for the new features yet –  they have time until the official release of iOS 15 in the stable form to update their apps.
What does this mean? There's a good chance that features and apps won't work and you have no idea why. Things simply go wrong or break without a reason.
Relatively common problems users who update to beta versions are facing, include: 
Reduced battery life
Compatibility issues with third-party applications
Operating system crashes
Home screen crashes
iCloud glitches
Apple warns officially on its website where the public beta program for iOS 15 is offered that betas will contain bugs and errors and should not be installed on primary devices.
"Please note that since the public beta software has not yet been commercially released by Apple, it may contain errors or inaccuracies and may not function as well as commercially released software. Be sure to back up your iPhone, iPad, or iPod touch and your Mac using Time Machine before installing beta software (… ) Install the beta software only on non-production devices that are not business critical. We strongly recommend installing on a secondary system or device, or on a secondary partition on your Mac." 
Is it a good idea to update yet? iOS users need to decide for themselves. If you want to give it a try, make sure to have a reliable backup in case things fall apart during testing. There's good news in case you're not happy with this decision: it's not final, you can always go back if you've had enough.
Here's how to downgrade from iOS 15 beta to iOS 14.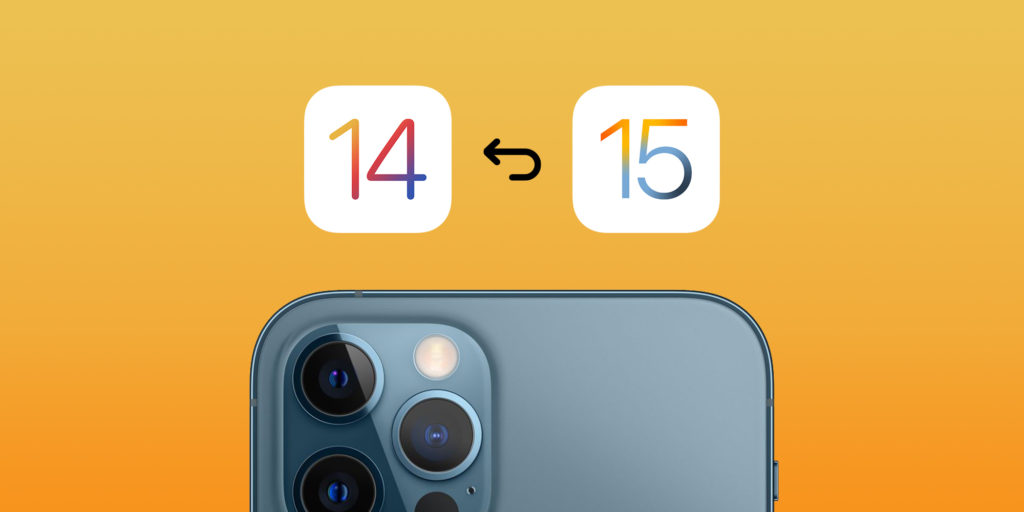 Our recommendation is to wait at least for a few more weeks – around August/ early September things should become stable as the official release of iOS 15 is around the corner at that time.
Let us know what you're looking forward to the most in iOS 15 as a mobile marketer and/or user!
We make sure that your app is ready for iOS 15. If you need help to prepare for the official release of iOS 15 this fall and are looking for a scalable app marketing strategy, reach out to our experienced consultants via [email protected]. 
Knowledge sharing is at the core of what we do. Learn more about the app industry and discover useful resources by signing up for our newsletter or by bookmarking the Customlytics App Marketing blog in English.
We love useful stuff. That's why we co-wrote the Mobile Developer's Guide to the Galaxy. Get your free paperback copy or download the eBook here providing you with all the mobile knowledge you need.
  Become part of our community on LinkedIn, Twitter, Glassdoor or Medium.