Author: Alexander Bihn
– App Marketing Content Manager
CRM Tools provide a wealth of benefits and have proven to be a vital tool for businesses of all sizes. You have to find an effective way to build and maintain your customer relationships, if you want to be a successful company! One of the best ways to improve your customer relationships is to implement CRM software.
CRM software was developed to make the process of customer management easier and less time-consuming. It helps businesses track and manage customer interactions, and record interactions between a business, its prospects, and existing customers.

Now more than ever understanding your customer is crucial for your business, which is why the role of a CRM specialist is important at Customlytics!
The skill set of a mobile CRM Manager
The general idea of mobile CRM is always the same, the problem is that each platform is coded in slightly different ways. Some tools are easier to manage, sometimes you have to find a way around certain problems, so the implementation of these tools is a huge progression someone can make in the role of a CRM manager at Customlytics. It's important to remember this: It takes time and you will get used to implementing programs, but that's what makes Customlytics different. You won't have a monotone daily routine, since you're running different campaigns for different clients with different KPIs.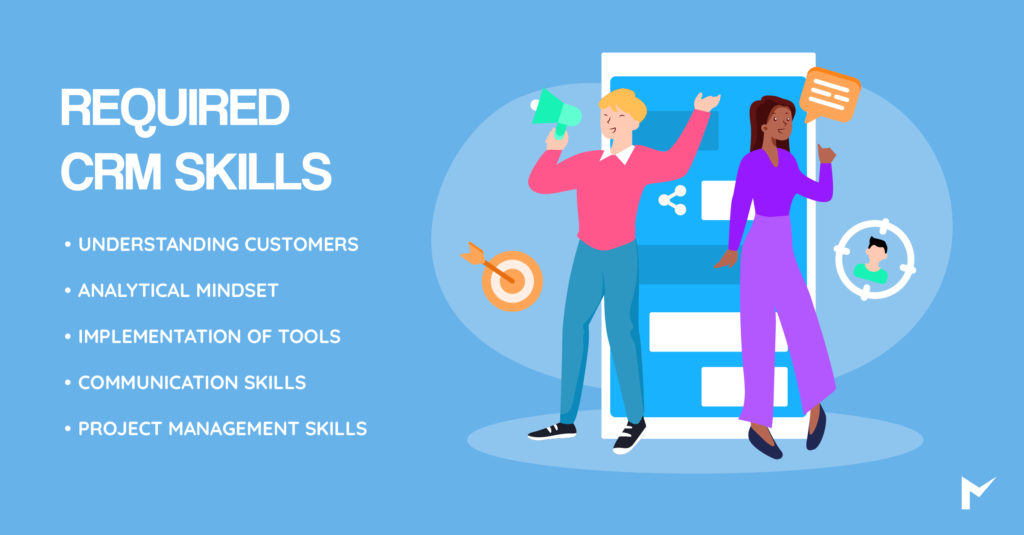 Attention is needed, because usually clients have the habit of wanting to change things last-minute.
"Generally speaking you have to keep in mind that clients have multiple campaigns running and one of my worries is not to target the same people with different campaigns at the same time! Orchestration – you have to make them specific!"
Piero, Mobile CRM Specialist at customlytics
Over time you realize that working in an agency is always linked to spontaneous changes and a
quick-to-adapt mindset.

Excel skills – At Customlytics we have a great BI team that usually works on dashboards for clients. However, sometimes changes in time management means having to produce the report for the client. A bonus are technical skills like HTML – even if it's not requested by clients to work on emails etc., we sometimes have to adjust certain aspects with the customer in mind.
Soft Skills are important for a general concept like mobile CRM. You have to understand the client, they usually have a very general idea on why CRM is important, but it's up to us to define the KPIs/tasks of customers and their direct wishes.
Here are a few key skill sets a mobile CRM specialist should bring with them:
Understand the needs of the customer
Project management
Creating campaigns
Find the segment/target audience
Find the technical aspects when the user must be targeted
Analyze, create A/B tests, reports
implementation of Tools
Project-Marketing
Tracking Concepts
In order to start working at Customlytics you need to have a basic understanding in a field of mobile or direct marketing. Ideally, you can create and analyze campaigns independently in one mobile CRM tool already.

Conception is an important component, because where does the customer want to go? The way to get there must be described for implementation! Status Quo for a mobile CRM manager: At the end of the day, evaluating image material is an essential part of success.
The career progression of an Mobile CRM Manager at Customlytics
So what's in it for you as a Mobile CRM Manager? When joining the Customlytics team, you'll grow your professional and personal skills in many areas:

First and most importantly, in mobile app marketing. We are a full-stack consultancy. Our work goes beyond mobile CRM – limitations between departments don't exist at Customlytics. That's unique in the agency sector. With a holistic understanding of mobile marketing, every one of the team is aligned. Career progression: At Customlytics we use a mixture of mobile CRM platforms.
A professional in direct marketing does not come from mobile, but rather from email marketing and it is just as attractive to be able to develop your skill sets.
"E-mail was yesterday, today is PUSH!"
Adrian, Mobile CRM Lead at customlytics
With more experience, your responsibilities will grow and you can take over projects independently as you'll know exactly what apps need in order to be successful in the app stores – even in global markets.
Let's take a closer look at the tasks of a Mobile CRM Manager and the fields of development to tackle to climb up the career ladder at Customlytics.
The daily routine of a Mobile CRM Manager
"I don't know if we'll ever have a general 'daily routine'."
Piero, Mobile CRM Specialist at customlytics
As a leading mobile technology and mobile marketing consultancy in Europe, Customlytics has a wide range of clients in various industries – including startups as well as big corporations like Audible and Deutsche Telekom. Having to focus on the technical aspects of client KPIs is also a key factor in the daily routine of a mobile CRM specialist. Tracking usually starts from the draft board, communication can be slow depending on the client and the concept of tracking sounds technical, but once a project is launched it comes natural.

For instance, Mondays are more about statistics. Getting used to campaigns needs support, so our teams work closely together in order to tackle all daily incoming tasks. All in all – it's adaptability that makes a very fluid job. Our mobile CRM lead Adrian describes it as follows:
"We send push messages – everyone can! It's super easy…now you could finally be on the other side of the spectrum and learn how it gets produced."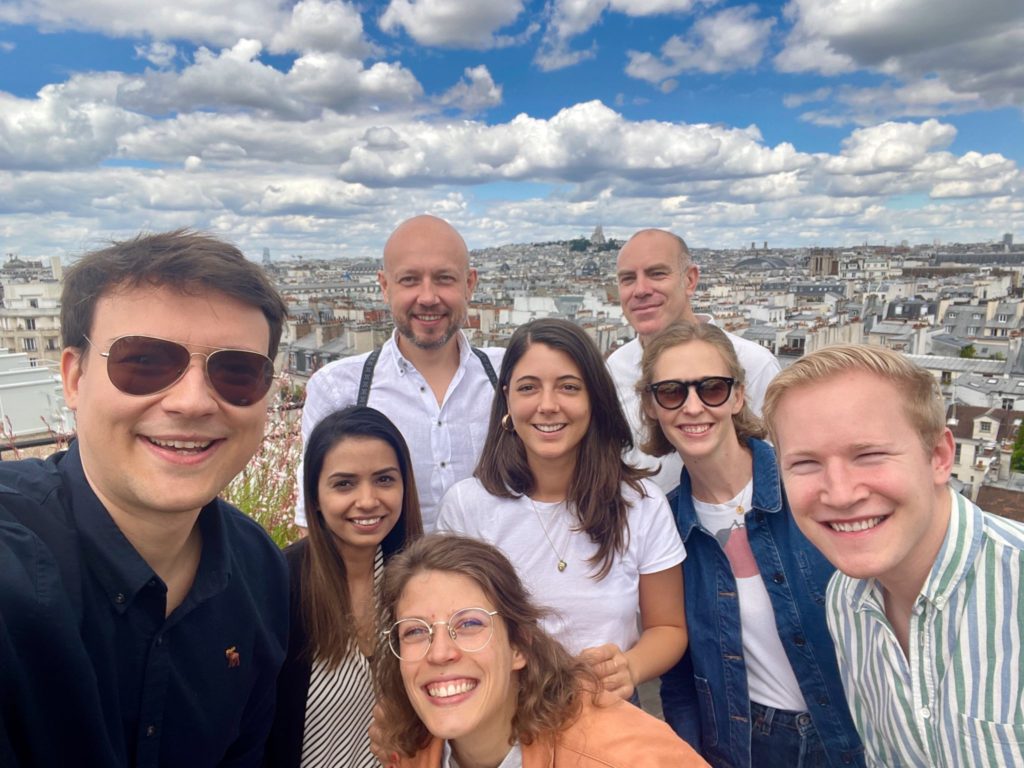 We traveled to Paris to meet one of our mobile CRM partners Batch at their headquarters.
Show how enthusiastic and passionate you are! At Customlytics everything can be learned, especially hard skills – a general interest is the base of growth.
"In a world filled with advertising, how do I stand out
and reach my goals?"
Adrian, Mobile CRM Lead at customlytics
You shouldn't be scared of what you initially bring, it's more important to learn! Nowadays, we have everything in cold print with data. Nothing is perfect, it is a continuous process of optimization. The CRM team is in direct collaboration with our MarTech department, in order to assure quality!
Another aspect of working at Customlytics is making sure that we create a safe space for everyone! Nowadays companies should make sure they provide a work environment without any prejudice against the differences of people!
While talking to Piero, one of our mobile CRM managers he noted:
"Having a lot of experience, times have changed for inclusiveness! I've experienced companies, who were not open to the idea of sexuality – in a city like Berlin it's not a problem at all fortunately! I definitely suspected that sometimes I was rejected because of my age, but that is just a suspicion! Customlytics has a wide-range of diversity. Ageism is something that must be talked about, so it's nice to see Customlytics highlighting differences. There's a lot of prejudice in the industry. Skill Set is what matters most, the way you carry yourself on a personal level – everything else doesn't matter"
Especially since Ageism is so prevalent in the marketing industry we wanted to
highlight the following quote by Piero:
"I've always been the oldest – marketing is labeled as "something for young people", so don't be discouraged. If you're passionate about Marketing, go for it! Inclusiveness should be a priority you set yourself, forcing companies just defeats the purpose of keeping your inner peace."
Are you interested in learning the ins and outs of mobile CRM and climbing up the career ladder? We've got you covered! Don't be afraid as a young professional or career changer – You don't necessarily need to have prior experience with CRM to succeed as a Mobile CRM Manager. Mobile direct marketing is open for anyone with a general interest in mobile app marketing willing to dig deeper into this specific area.
Get in touch with our mobile CRM team consisting of Adrian and Piero to clear your last doubts. They are more than happy to have a chat with you about everything you've ever wanted to know from a CRM professional.
Take your career to the next level and check out our open positions in mobile CRM from entry to expert level!
Do you want to know more about the mobile CRM projects we've done over the years?
Click here to read our case studies.