Author: Anna Priester
– Former App Marketing Content Specialist at Customlytics
Data protection is one of Germany's fundamental rights. For a long time, however, the main focus of mobile app users was not on this. In the early years of mobile marketing, when the app industry was "booming", users consciously or often unconsciously accepted the disclosure of their data to always be up to date with the latest technology and apps.
Over the years, the situation has changed – fueled by numerous public data protection scandals surrounding global tech corporations. The introduction of the GDPR in Europe in 2018, which regulates the processing of personal data by private companies and public bodies in Europe, has additionally strengthened the understanding of data protection.
Nowadays, there is a paradigm shift: Users seek transparency about their data demanding fair handling that coincides with their expectations through the promises made by companies. In particular towards big technology companies and advertisers, there is a lack of trust due to the increased awareness.
However, especially in the mobile sector and in order to be able to conduct effective, targeted app marketing, data along the customer journey is extremely important for marketers.
New privacy features from major tech companies are aggravating factors. First and foremost, Apple's introduction of the App Tracking Transparency Framework in iOS 14.5 this spring and enhanced data privacy features in iOS 15.
In this article, we take a closer look at the challenges mobile marketers are facing by increasing privacy and security concerns from users.
Basic principle of data collection in mobile marketing (before Apple's ATT)
Let's start from scratch: Why do app publishers collect data from their users and how is it processed? To answer this question, we need to focus on the customer journey. On our growth framework, the Marketing Master Map, we illustrate the mobile customer journey.
The four main phases can be used to define data points that are relevant for user acquisition (UA) and further relationship management (mobile customer relationship management, mCRM) with users.
Demand Generation/ Conversion Generation
In the first two phases, marketers conduct user acquisition marketing. Paid ads (on various channels) are a popular tool for acquiring users. To scale their campaigns, marketers need to measure the success of these paid ads channels. The focus is on metrics such as impressions (an ad displayed to a single user), clicks (a user clicks on an ad), installs (a user downloads an app), reinstalls, registration, subscription (free/paid), and conversion rate (number of visitors of a website in relation to the number of transactions set as conversions).

With the help of a Mobile Measurement Partner (MMPs) integrated into the app, even more insights into user behavior can be gained, giving mobile marketers information about the success of an advertising campaign. This goes beyond which campaigns drove users to the app via number of impressions and clicks. MMPS can determine in-app journeys via event tracking and mobile marketers thus know from which campaigns the most valuable users come from.

Without attribution tracking (the technical term for this process in mobile marketing), mobile marketers are severely limited in their ability to target potential new customers through advertising campaigns. Without knowing where the most valuable users are coming from, they have no choice but to scatter their ads – which can have a negative impact not only on their advertising budget (scatter loss), but also on users of the advertising channels themselves: They are repeatedly confronted with irrelevant ads.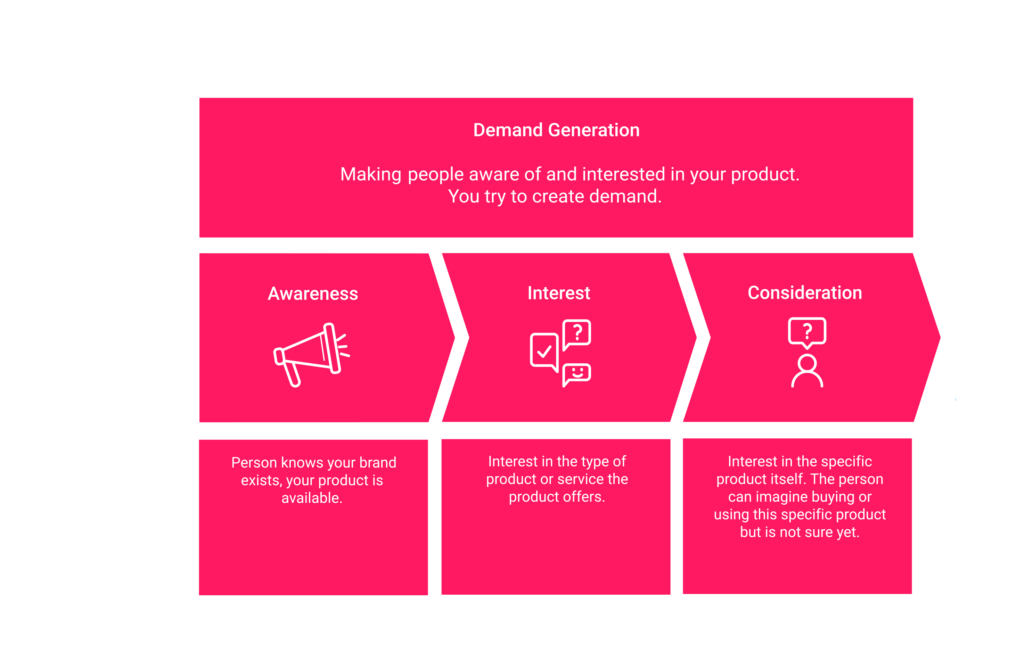 Relationship Management/ Propagation
In order for mobile marketers to get started with relationship management and to be able to set up retargeting campaigns in the case of inactive users, they need user data and, above all, the consent of their users to contact them.
A distinction is made in retargeting between paid retargeting activities, such as those from ads served to existing (inactive) app users within the app or other websites, and mobile customer relationship management, in which marketers use existing communication channels (e.g., push notifications or in-app messages) and email marketing to convince users to return to their app.
Further down the funnel, the aggregated level of UA leads to a personal relationship between the company and the user – which is intentional and beneficial for both sides. By means of mCRM and the given communication channels, marketers can always keep their users up to date regarding the company, promotions, new products, etc.
The more information marketers have about their users, the better they can customize and personalize their content. Based on behavior in the app and stated preferences, users can be sent targeted recommendations and suggestions for content that is relevant to them – this principle corresponds to Netflix's business model.
Collaboration and data exchange with an MMP is also essential for retargeting campaigns. The retargeting provider needs the user list to search for existing users when they use other apps and websites. This list is maintained by an MMP (since the SDK runs in the app and tracks all current users). In addition, the MMP measures user events and forwards this data to the retargeting provider so that it knows which of the events is the target of the retargeting campaign and it exists a success criteria.
In the mCRM space, a CRM provider handles user segmentation, message delivery, campaign triggering, and reporting for app publishers, and accordingly receives the data needed to do so.
Therefore, apps share certain user data with third-party vendors to monitor the success of their marketing campaigns and provide users with a better customer experience with their app.
Data collection after Apple's ATT and IDFA changes
So far so good – with the introduction of Apple's Tracking Transparency Framework (ATT), the situation regarding data collection and processing with third party vendors (including MMPS, retargeting & mCRM vendors) has changed significantly – in particular with regards to user acquisition and (re-)targeting.
With the iOS 14.5 update and the new ATT requirements, each app must ask for users' consent to track their data in advance via a pop-up message within the app.
If a user does not agree to this, the Identifier for Advertisers (IDFA), which is used for tracking, will be abolished. This means that the media attribution process described above can no longer be carried out and targeted (re)targeting is impossible, as mobile marketers cannot distinguish between new potential users and existing users.
According to Business of Apps, more than half (67%) of iPhone users are now using iOS 14.5, and to get better ads, most users also tend to opt-in to IDFA. However, despite increasing opt-in rates, iOS 14.5+ users have about 30% lower IDFA presence than users of previous operating systems.
Opt-in rates vary widely by app category – shopping, automotive and business (79%) come off positively, while Education (19%), Food & Drink (26%) perform poorly.
Another consequence of Apple's ATT rollout is that advertisers are shifting their budgets to Android.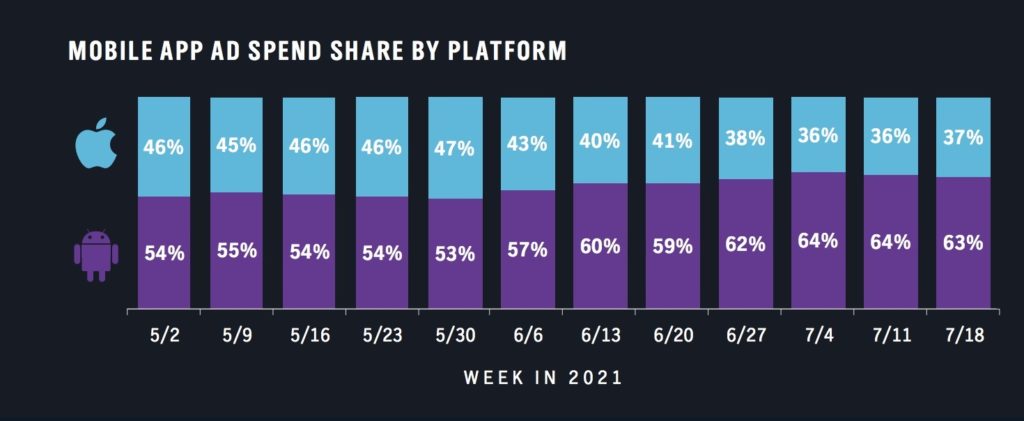 Apple – Leadership in data privacy?
Apple has been promoting data protection and privacy offensively recently. New privacy protections in iOS 15 also promote Apple advancing with privacy. Apple promises that "new features help users control and monitor apps'. These features include:
App Privacy Report: The App Privacy Report shows users how often each app has used the permission they've previously granted to access their location, photos, camera, microphone, and contacts during the past seven days
Mail Privacy Protection: In the Mail app, Mail Privacy Protection stops senders from using invisible pixels to collect information about the user. Further it masks their IP address so it can't be linked to other online activity or used to determine their location.
Private Relay: Internet Privacy with iCloud for existing iCloud subscribers (at no additional cost). A new service allowing users to connect to and browse the web in a more secure and private way. When browsing with Safari, Private Relay ensures all traffic leaving a user's device is encrypted, so no one between the user and the website they are visiting can access and read it – not even Apple or the user's network provider.
Hide My E-Mail (included in iCloud+): Users are able to share unique, random email addresses that forward to their personal inbox anytime they wish to keep their personal email address private.
On-Device Spracherkennung: No unwanted audio recording. With on-device speech recognition, the audio of users' requests is processed right on their iPhone or iPad by default.
Impact of increased data protection on mobile marketing?
Integral to heightened customer experience and increased customer loyalty is the customer trusting brands to manage their personal details appropriately and in line with an individual's expectations. Data has become an even more crucial competitive advantage and companies that don't care about how to generate it along the customer journey and collect it with user consent won't be able to keep up in the long run. Change is required, mobile players in the market are becoming more creative in how to apply them to reach the greatest outcomes.
We at Customlytics are also confronted with these challenges in our consulting work for numerous companies from various industries. As we are a German-managed company, data protection has always been a matter of course for us and has a high priority. We are always up to date with current requirements and quickly integrate changes into our data-driven services for mobile app marketing.
In an upcoming webinar with Customlytics, Adjust and mParticle, mobile experts, including our CEO and Co-Founder, Christian Eckhardt, will take a closer look at data privacy in regards to mobile apps. They will address the big question of whether true consumer privacy and personalization can peacefully co-exist.
Get to know more insights on the trends and demands they are seeing from both regulatory authorities and customers as well as the challenges they face. In the discussion, the panel of experts will offer steps that can be taken to ensure minimal disruption to the business.
Save your spot and register here!
💡 Knowledge sharing is at the core of what we do. Learn more about the app industry and discover useful resources by signing up for our newsletter or by bookmarking the Customlytics App Marketing blog in English.
📚 We love useful stuff. That's why we co-wrote the Mobile Developer's Guide to the Galaxy. Get your free paperback copy or download the eBook here providing you with all the mobile knowledge you need.
💜 Become part of our community on LinkedIn, Twitter, Glassdoor or Medium.