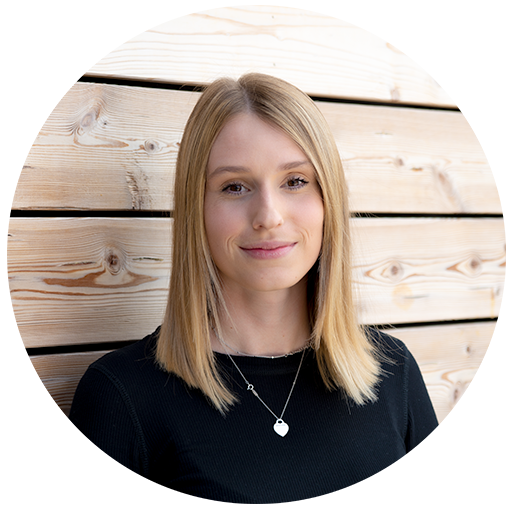 Author: Anna Priester
– Former App Marketing Content Specialist at Customlytics
The competition for user attention in the leading app stores is intense. App users can download almost 4.5 million apps from the App Store and Google Play Store (Google Play Store: 2.56 million; App Store: 1.85 million, as of Q1 2020, source: Statista). The first hurdle that an app has to overcome in the battle for user attention is to stand out from all the apps in the app stores and be found – ideally directly when entering certain terms in the search.

In this article, we want to provide app marketing managers and others who are interested an introduction to keyword optimization. We start with how to research all relevant keywords for which an app is ranked in the App Store and Google Play Store. In addition, you will learn how to evaluate these keywords to use them for the written components of the App Store listing.
There are several measures that app marketing managers can take to get their app higher up in the search results of the App Store and Google Play Store through using keywords. These measures fall under the Keyword Optimization (KWO) method, which is an essential part of App Store Optimization. Our eBook "App Store Optimization" provides a good introduction to this topic. The overall goal of ASO is to enhance the visibility of the app in the app stores in order to attract more traffic to the product page as well as to improve the In-Store Conversion Rate (CVR) for download.
This article is about the visibility of an app in the leading app stores and how it can be increased with the correct use of keywords.
Before we get started, please keep in mind that the App Store and Google Play Store each have their own algorithm that is responsible for ranking an app for certain keywords. Therefore you need to develop two ASO strategies. Even though there are some overlaps, in the end, you still need two different approaches for the two operating systems.
Step 1: The research – How to find suitable keywords for your app
The aim here is to find words and phrases that could potentially be valuable and to collect them. There are several sources available for your search:
Consider the search terms that app users would use to search for an app like yours. What are the features and values your app offers: What terms do you associate with it? Include generic keywords that are thematically related to your app and your brand. Use the exchange with colleagues and friends – the more ideas you identify, the better.
Reviews from the app stores are valuable for App Store Optimization for several reasons. While conducting a KWO, you can gain important insights from user feedback for new keywords. Go through the reviews of your app as well as those of your competitors and pay attention to which words and phrases users use most frequently.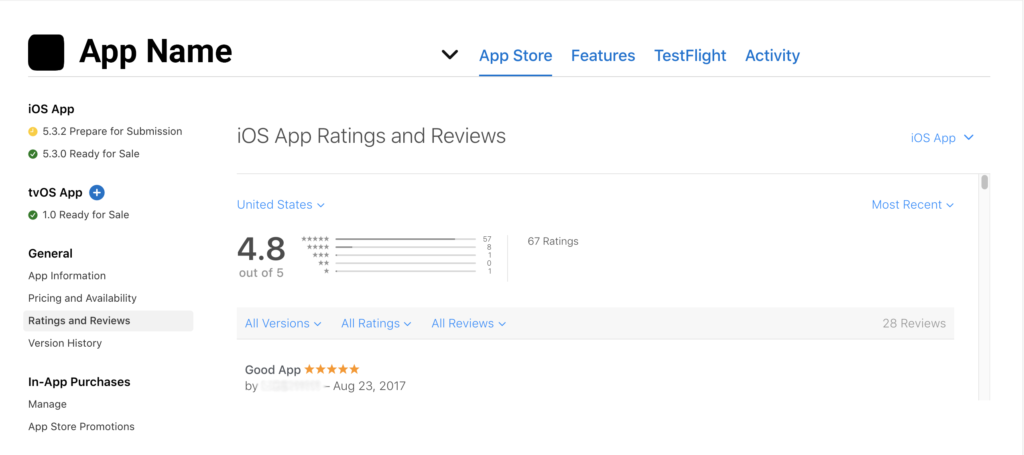 Not only feedback to users from competitors, but also the competitors themselves, can provide information on new terms. So take a close look at your competitors and analyze for which keywords your competitors' apps rank.
In order to quickly check which keywords have high volume and popularity, you can use the auto-suggestion in the App Store and Google Play Store. If you enter a relevant term for your app in the search box (using "food" in the example below), you can assume that the results that appear first are the most popular and you should include them in your set. However, for more precise data on volume, analysis tools are needed.
There are numerous ASO and SEO tools for keyword research, in our eBook "App Store Optimization" we have listed some well-known analysis tools. However, these should be used with caution, as they do not have access to non-public data from Google or Apple.

Google itself offers a Keyword Planner, a tool embedded in Google Ads. When you select a particular search query, you'll get recommendations for similar keywords with their estimated average monthly searches. While these recommendations are good, the Keyword Planner has one major drawback: it retrieves data for web-related keywords – these do not have to match mobile-related keywords. Keep this in mind, if you want to perform keyword research for app store searches with the Keyword Planner. It should only serve you as a keyword search tool and a proxy tool for volume.

Derivations from Apple Search Ads campaigns
When it comes down to optimizing the App Store presence, Apple Search Ads is an indispensable tool. In this blog article of ours, you can check out how to successfully run Apple Search Ads campaigns with an ultimate cheat sheet. The tool is also very helpful in terms of researching and prioritizing keywords, as Apple Search Ads knows a lot about your app and its genre. Already when creating a campaign, useful terms will be suggested to you. If your campaign is already running, you can manage your Ad Group keywords under Campaigns. Apple will provide you with detailed instructions. In short: you get a comprehensive list of keyword recommendations based on existing keywords.
When a particular keyword is performing well, you can use the keyword suggestion tool to get recommendations for more such keywords. You can also add your own keywords and check their potential search volume. It is important that you adjust the keywords from "Broad Match" to "Exact Match" in the next step, because "Broad Match" also takes variations of a keyword into account, while "Exact Match" only allows for an exact match (you can find out how to do this at Apple). Depending on how the new keywords perform in the popularity score, you will know how to optimize your app accordingly.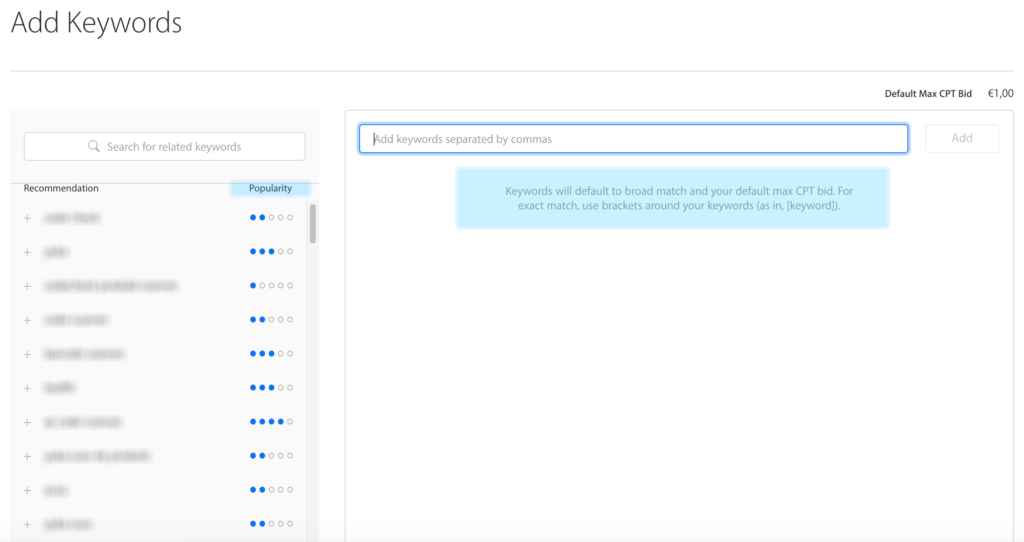 Keyword Reports (for Android apps)
In order to monitor the performance of existing keywords for your Android app, the acquisition report in the Play Console (under the Grow tab – Conversion analysis) is useful. You can filter this report by search terms, so you will see the terms according to their performance in terms of Store listing visits, Store listing acquisitions and Store listing conversion rate. This way you can verify if you chose the right keywords or if you should optimize them with other terms.
Given all these various possibilities for comprehensive research, you're good to go. Just one final point: If your app has an international base, remember to run the keyword research in different languages to achieve full success in every market. Cultural differences may require different keywords and you will not be able to get by with a simple translation of the initial keyword research.
Step 2: The Evaluation – How to filter out relevant keywords
Now we reach the second step of KWO, the evaluation and prioritization of keywords. After you're done with your research, you should have a long list of keywords – which can include up to several hundred words. Although all your efforts to research so many words have been necessary, it is now also essential for the success of your KWO and ASO strategy to shorten the list to the most relevant ones. You should ask yourself the following questions to evaluate the relevance of the keywords:
Which keywords drive a lot of traffic?
Does my app have the potential to rank for these keywords?
Does the keyword match my app?
Analysis tools can also provide answers to these questions. These tools search the app stores and extract the information they need for it. AppTweak, such a keyword analysis tool, for example, goes by these three components:
Volume: Is this keyword being searched for?
Competition: How many other apps are listed for this keyword?
KEI: A value consisting of the search volume for a keyword and the competition. The closer the value gets to 100, the better.
However, you're not done with evaluating keywords by gathering the data from the analysis tools: Make sure to check the results yourself to see if a term really fits your app. Just because the search volume is high and the competition low, a keyword does not necessarily have to be relevant for you – don't be fooled here, trust your common sense.
There you go, you have successfully mastered the first two steps of keyword optimization. The result is a comprehensive set of optimal keywords that your app ranks for in the leading app stores. In order to keep the visibility of your app in the App Store and Google Play Store on a steady high level and to increase it even further, you should repeat the keyword analysis regularly and identify new trends. How often depends on your app. As a rough rule of thumb, you should re-optimize your app three months after the first test phase based on the results in-depth and then repeat this process every six to 12 months.
In the third and final step, it is about the correct placement of the keywords. Of course, we don't want to keep from you how to use your keywords correctly and how to write copies (phrases and sentences) so that your app (or more precisely, its presence in the app stores) "carries" keywords in itself and is ranked in the app store search. This is why we dedicated another blog article on this matter that will follow soon. Don't miss this article to learn how to use your keywords correctly with regard to keyword ranking on iOS and Android.
You can't wait and want to get started immediately with keyword optimization? Great! If you need support, don't hesitate to contact us! We at Customlytics are happy to support you with any ASO issues, whether it is the keyword research and evaluation or the correct placement and visual elements. We know all the tricks to put your app in the best light in the app stores! Drop us a line at [email protected] and let's find out together how we can optimize your ASO strategy!