Author: Alexander Bihn
– App Marketing Content Manager
Do you want to know why generic, overpriced agency-creatives are overrated and could potentially make you lose money in 2022? We had the opportunity to hold a workshop session in the user-acquisition zone at the APS 2021 to explain why it's important to lean into modern advertising strategies and use platforms such as Tiktok and its audience to your advantage.

Using a client case study that was awarded by TikTok as "Best Practice", we discussed why you are wasting money on big agencies creating generic Stock-Ads, instead of effectively creating authentic user-generated ads for user acquisition.
Our client WeShare joined us during the session to further illustrate the impact user-generated content had for their app. The ads we produced are included in TikTok's library for Best Business Practices in the automotive category, as they have shown great results. Our talented design team has been producing content for them on social media platforms like Instagram, TikTok and Snapchat for a few months now and their work has been proven to be a great success for them.
Especially the user-generated ads shown here have gained them an install volume increased by 30% – they allocated more budget from other social channels and could even cut the Customer Acquisition Cost (CAC) by half compared to other social channels.
This campaign shows the impact of going the extra mile for our multifaceted client-base, leveraging our experience in many fields of App Marketing, which includes creating visuals in-house.

Before we get started, here is a little bit more information about our client WeShare: Launched 2019 in Berlin, WeShare is a 100% electric car sharing company (2,300 all electric cars ID.3 and ID.4). They added Hamburg as a second city in February this year. Their pricing concept is pay per minute/day and monthly subscription for frequent users (WeShare+). WeShare's vision is that every car is emission free, shared and affordable for everyone. Their mission: "We provide the advantages of an own car – but better!"
The status quo
The status quo in the automotive branch for ads is that many productions are enormously demanding and costly and only a few brands make the jump to platform-specific content.
The best practices communicated here as viral content are presented by TikTok as inspiration for the automotive sector. The successful campaigns listed here are examples of real giants.
However, how does WeShare become a brand that is not necessarily a viral content producer, but whose reach is incomparable?
It's about addressing the right target group with the right message. The older generation in particular often owns more than one car. The idea of being constantly mobile is a need with which the target group 18-24 & 24-34 can best identify. TikTok could have around 20 million users in Germany by the end of 2021.
How did we help WeShare reach new users via TikTok?
The task for us was to come up with a creative strategy in order to acquire new users in the two target audience markets Berlin & Hamburg. We optimized registrations and conversion as a campaign objective.

The ads were launched in September 2021. We looked at the creatives that already existed, such as our Facebook ad campaign "Always Green." The generic ads with audio and a moving city skyline background are simple promotional ads that still showed effective numbers.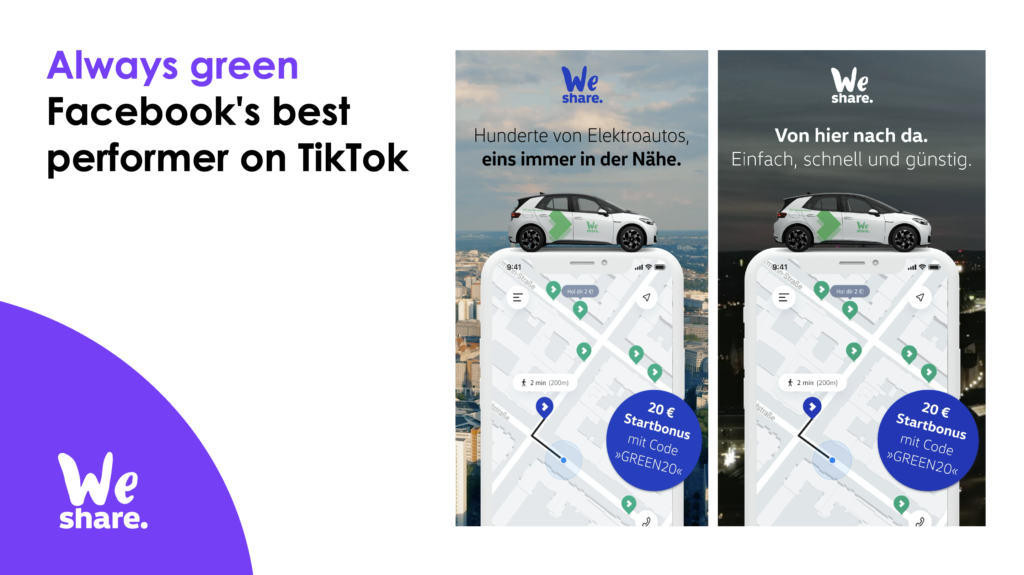 However, our second approach was user-generated content. Ads that are very easy to identify with for users showed much greater success. No high production value, shot on an iPhone by our in-house design team, who rented a WeShare car and documented their day. The easy-to-use message for users of the WeShare App is something they can relate to.
Another set of ads showed frequently asked questions by users of the app and gave them the answers they were looking for.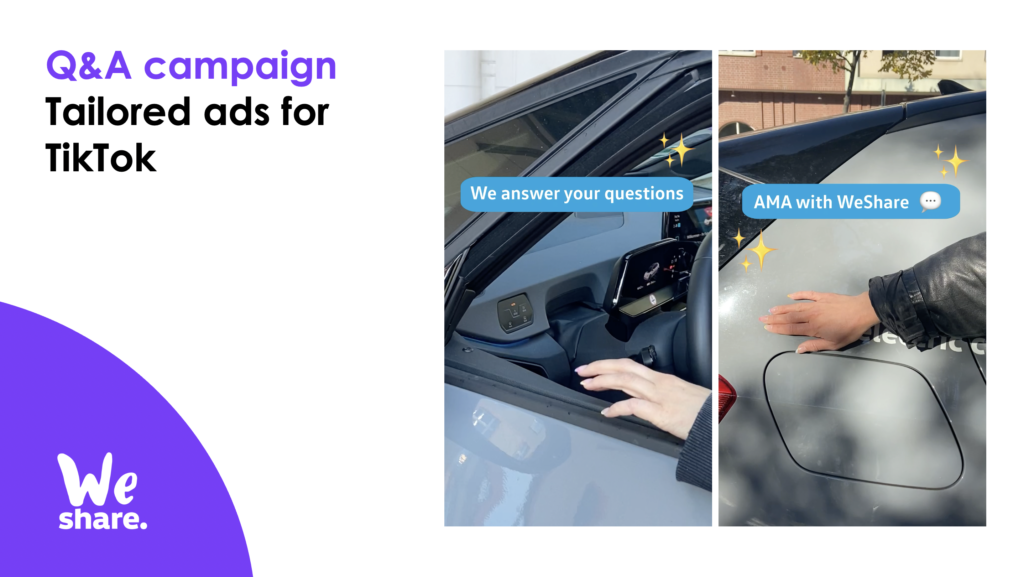 Want to see the user-generated ads? You can watch the live session from the event with all of our insights

right here

:
How did these ads perform compared to regular ads and what have we learned from user-generated content?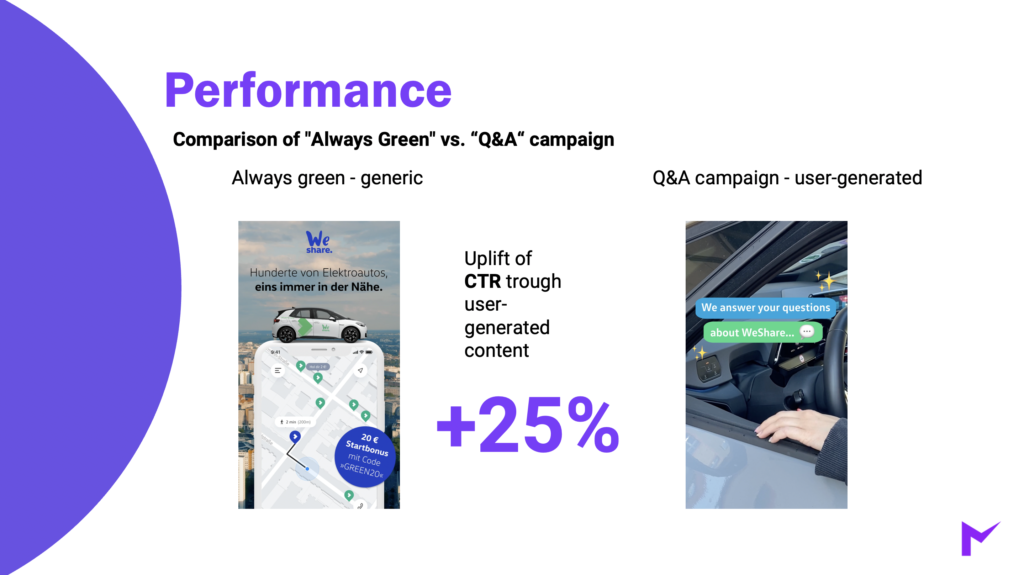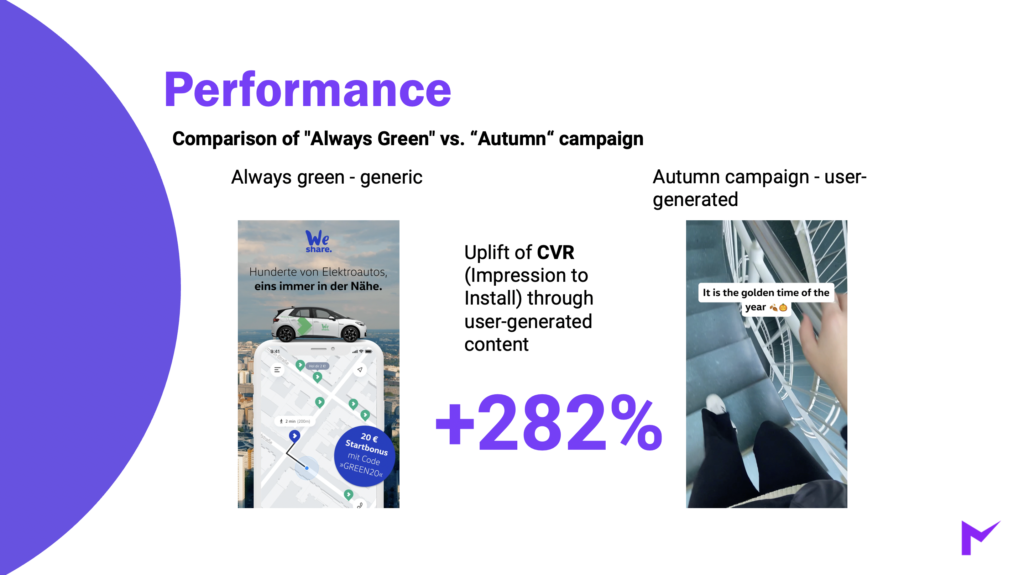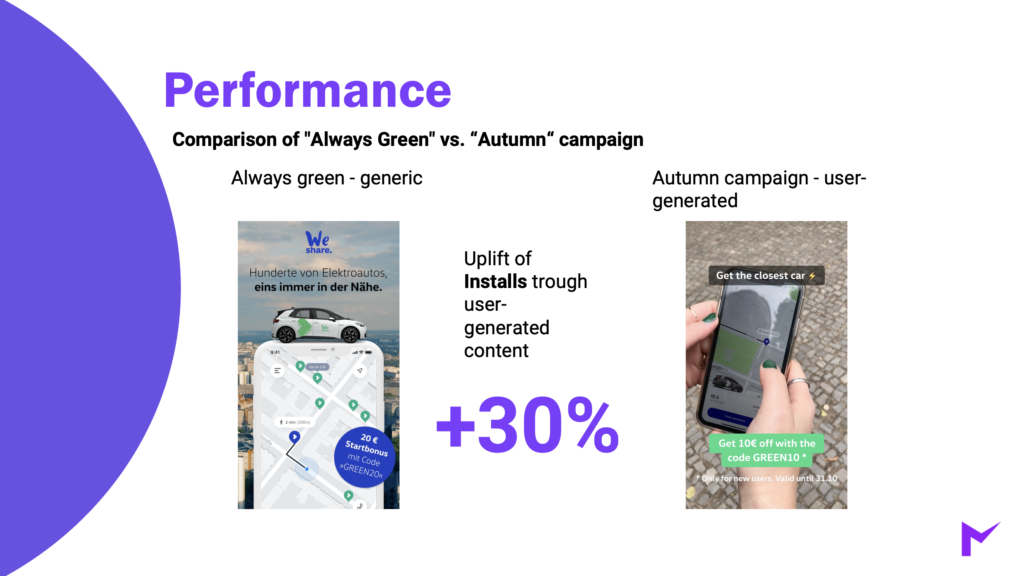 Make authentic videos – communicate with your customers in their language
Keep it short & sweet: create multiple shorter versions to fight against ad fatigue
Portrait mode it is: focus only on vertical videos
Captions and CTAs work – promote an offer, trigger an action
TikTok Look & Feel: understand the new genre of user-generated videos
Compared to giants in the automotive category, it was great to see that with a creative, cost-efficient approach we were able to be awarded by TikTok as "Best Practice" in the automotive category.
Authenticity is key when it comes to social advertising! User-generated content with engaging storytelling is well-received by the audience. There is a big change in how we consume media. As social media attention spans continue to shrink, short video content has become very popular and won't lose power anytime soon.

To find more about the addictiveness of short-form content, you can read our blog article about Story Ads right here: "Why mobile users are addicted to Story Ads"

The key takeaway we want marketers to have here: High production cost does not equal high impact! We kept the production of the videos simple and created effective ads for social media marketing. User-generated content also works on different marketing channels. We leverage that by resizing and using the ads on other social channels in the future.

Want to know more about TikTok Marketing? Head over to our blog article
"Why TikTok's new ad formats are beneficial for your business" for more information.