Author: Anna Priester
– Former App Marketing Content Specialist at Customlytics
It's been an exciting few weeks with news that has received a lot of attention in the mobile app industry – in particular from the two tech-giants Apple and Google, who have announced changes to the App Store Connect (Apple) and Google Play Console (Google) in the same week as each other.
What stands out, in particular, are the new features in the Google Play Console that we are focusing on in this article- we will address the changes to App Store Connect another time. In this article, we'll give you an overview of the changes to the Store presence and user acquisition. We'll also explain, how App Marketing Managers should incorporate these changes into their ASO strategy, in order to control and optimize their Google Play Store presence regarding the store listing, acquisition performance and conversion rate.
The Google Play Console: The core of any Android app
Let's start from scratch: Why is this such big news for the mobile app industry? The Google Play Console is the central platform where Developers can publish and manage their apps.
For Marketing and Product Managers, the Google Play Console offers a range of important tools and data for:
Preparing the launch of an app
Optimizing the App Store presence in the Play Store
Managing rankings and reviews
Monetizing the app, In-App purchases and subscription model
As such, the console is the backend and core of any app. Thus, updates have a big impact on the daily work of App Publishers – be it Developers, Marketing Managers, Product Managers or Management.
Many articles addressed the changes in the development environment already, such as Google, Androidpoliceand 9to5google. In this article, you will learn about the new adjustments of the Store presence and user acquisition since these are crucial for App Marketing Managers and ASO in general.
Google's motivation behind the big update of the Play Console
To better understand the update, let's first take a look at Google's motivation for the changes. Google published a blog post on its Android Developers blog, in which Tom Grinsted, Product Manager at Google, talked about all of the changes in the Google Play Console.
The reasons for the update is easily explained: There was too much going on in the Play Console – over a million Developers and new features being added continuously to suit the needs of everyone. Over time, this led to the Play Console's range of functions becoming unclear. To counteract this, Google set itself the goal of redesigning its Play Console from the ground up, increasing clarity and simplifying the navigation.
For this purpose, a new structure for the dashboard was developed. You can find it in the new Google Play Console beta version, which you can access at any time at play.google.com/console. If you want to go back to the old console or even keep it, you can still do so and specify in the settings which view of the consoles you prefer as default. In the new Google Play Console, the navigation has been greatly optimized so that App Publishers can find the data relevant to them quickly and clearly within one area. This makes their daily work with the Play Console easier and saves a lot of time.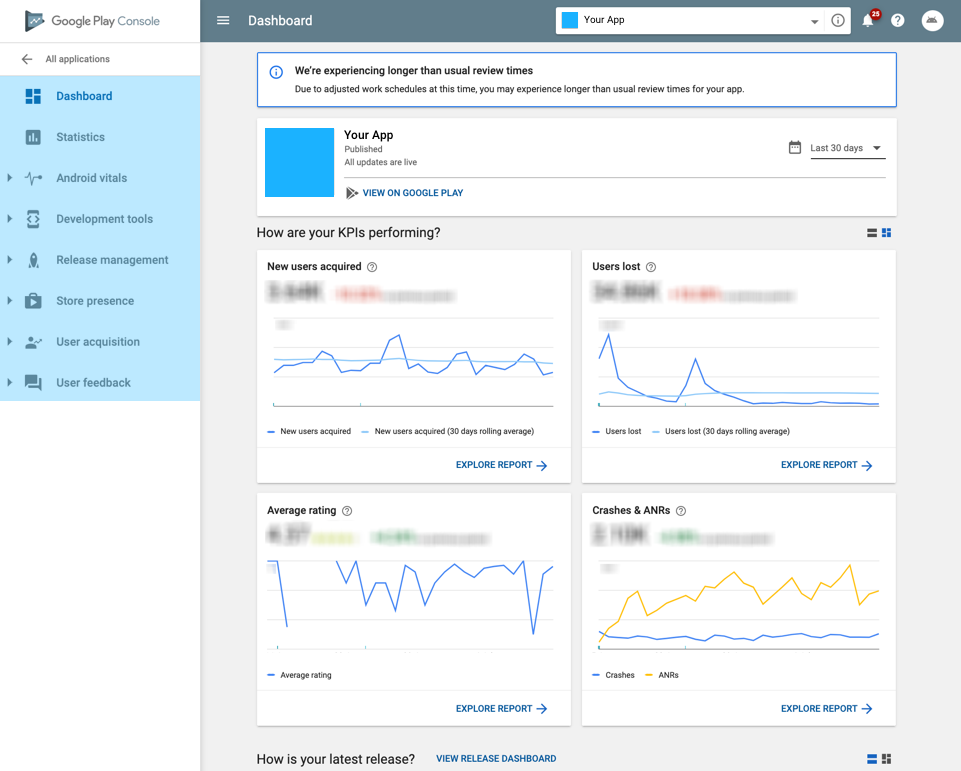 The Release Tap on top is for Developers, Marketing Managers can find all relevant data for ASO in the Grow Tab as well as the Quality Tab, which is also used by Product Owners, Pricing Managers can manage all prices related to their app in the Monetise Tab.
The Grow Tab: Important data of the Store presence und UA for the ASO strategy
With this knowledge, we take a look into one of the two tabs that are relevant for App Store Optimization: The Grow Tab (We will leave out the Quality Tab in this article although it is also relevant for ASO. Here you can manage ratings & reviews, and we compiled some tips on how to approach this in this blog article). In the Grow Tab, the areas of Store presence and UA of the old console are now combined. With this, you have all relevant data to measure and analyze your app's acquisition within one area. You can evaluate the performance of your store listing on Google Play by analyzing differents metrics and find out how your app's acquisition performs across different dimensions, such as the traffic source, the country and the search term. With the acquisition reports, you gain an overview if your ASO activities are driving quality visitors that convert. Furthermore, you can identify where you are underperforming compared to your competitors and prioritize what you should improve so that you invest your efforts more effectively.
The most important changes at a glance
The changes have already had a positive impact on the daily work of App Publishers, as J.B. Voss from our client Digital Performance confirmed to us:
"With the update of the Google Play Console and the advanced filters in the conversion analysis, we finally see all general acquisition trends at a glance – filtered by keywords, countries/regions and languages. By being able to break down the data so precisely, we can now draw clear conclusions about which of our ASO activities are performing well in which countries and languages and which should be optimized. This really is a step forward for our ASO strategy!"
The Store analysis pages provide you with great insights into the origin of your app installs. You can check which interface drove the users to your store listing (Google Play Search, Google Play Explore or third-party referrals). You can filter by three dimensions: App install state, country/ region and language. This enables you to analyze how changes to the store listing affect acquisitions. Additionally, you can evaluate the ASO activities of your app.
In the Store presence, you can analyze store listing visitors, acquisitions and the conversion rate. In the section Conversion Analysis, there is a time series graph that provides you with a high level overview of your overall acquisition performance and all general trends. With this, you can understand the daily trends at a glance and identify those areas that you need to take a closer look at again
One of the most significant changes for the App Store Optimization are new advanced filters that let you break down visitors, acquisitions, and conversion rates for your store listing over a selected time period. They let you filter data based on acquisition source, store listing, country/region, language, UTM source and campaign, or acquisition state over a selected time period. The breakdown tables provide a summary of the top performing values for each breakdown dimension.
Moreover, it should be soon possible to compare the conversion rate with other apps in Google Play with benchmarks. This feature is also a big advantage for ASO.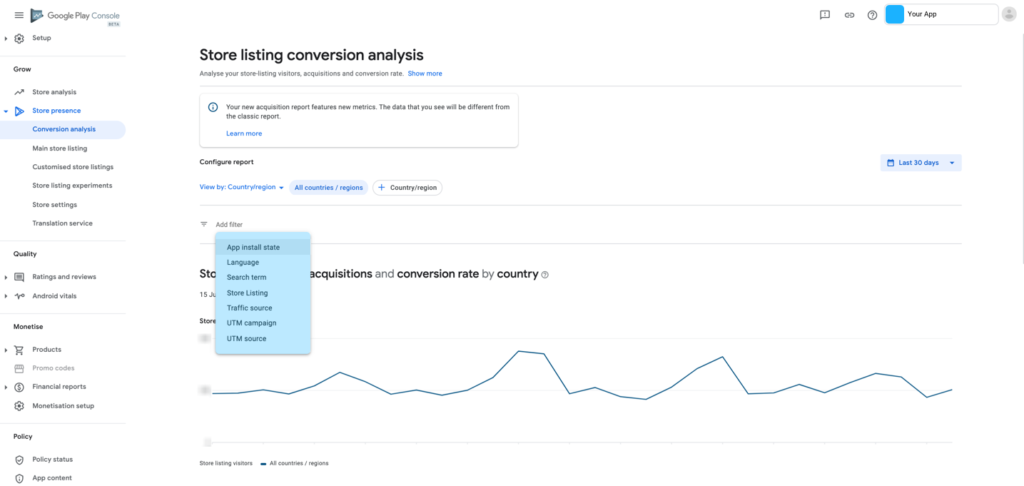 New advanced features: Benefits for the ASO Strategy
The advanced features provide App Marketing Managers with even better opportunities to plan their ASO strategy. We have summarized the main features for you:
With the new possibility of analyzing search terms by country/region and language, you can further optimize your ASO activities. This way, you can, for example, draw conclusions about what users are most interested in, which countries would be suitable for user-defined store listings and in which language the translation needs to be optimized.
Creating store listing experiments is now a longer process, in which you have to fill out step by step details, attributes, variants and audience of your app. However, this is by no means a disadvantage, as it now ensures that all relevant data is available to target the right target group.
With custom store listings, you can tailor your app's store listing to appeal to specific user segments in countries that you select. It is possible to create up to five custom store listing pages and make them available in any preferred language. You should use these custom store listings specifically for your pre-registration campaigns.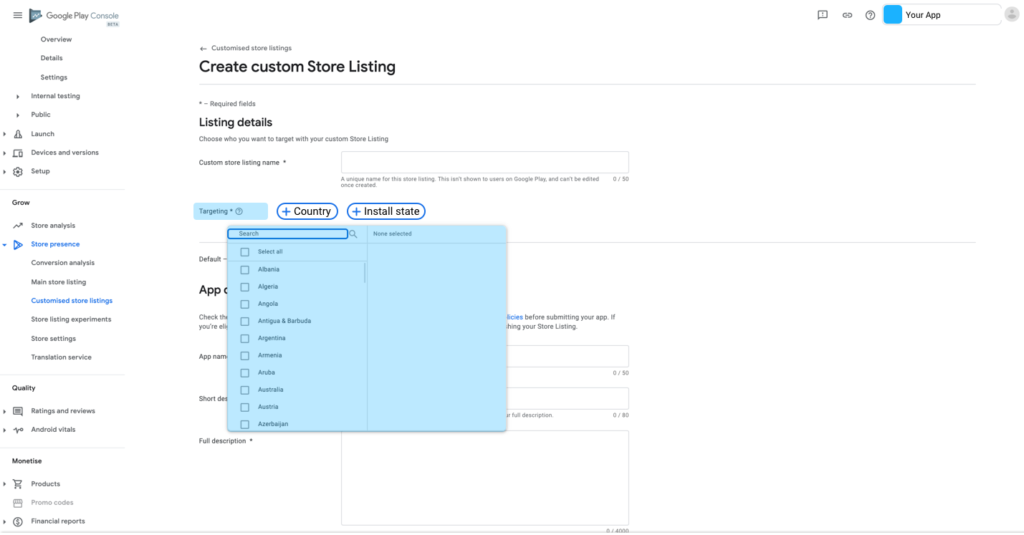 The possibility to use Pre-registration (in the Google Play Console menu under the Launch section) is another advantage for the new Play Console and App Store Optimization. This way, you can build excitement and awareness for your apps and games for pre-registered users even before you publish them on Google Play and promote the launch.
Potential risks: What you should be aware of
No matter how useful the new changes may seem, they should be treated with caution. With the changes, come new opportunities for ASO, but also potential pitfalls. Finally, we have tips on what you should look out for to avoid falling for it:
The new acquisition report breaks acquisition channels into three (previously six): Play Search, Google Play Explore and third-party referrals. This way the focus is on store listing conversions. Visitors or acquisitions from other surfaces on Google Play, such as editorial content or acquisitions recorded by Google Play that happens through other mechanisms, such as back-up and restore, are not included.
Another tricky aspect for ASO is the Google Play search metric. It includes the acquisitions of Google Ads, therefore, keep in mind that the volume can be strongly affected by the activity in Google Ads.
You might also see a decrease in acquisition numbers of your app since the app install status is splitting users into new and returning users. The new report only counts acquisitions that happened shortly after visiting the store listing. Don't let this unsettle you, this is most likely due to the shorter attribution period. Even though the store listing visitors are excluded from the acquisition analysis, you can still access the relevant data through conversion analysis. Here, you can as well apply extra filters and see data with a time series graph. This way you can easily monitor changes to your store listing and monitor the impacts of your ASO activities.
For the evaluation of your ASO activities, the data export from the acquisition report, which Google might offer soon, will help you. Stay up to date here!
With the updates to the Google Play Console, Google has taken a big step forward and makes App Publishers' daily work easier. With the introduction of the new Grow Tab and several changes to the Store presence and user acquisition analysis, App Marketing Managers now have better ways to more efficiently improve their ASO strategy and better understand the performance of their app.
Stay tuned and optimize your ASO strategy based on the new opportunities. If you need support in this, do not hesitate to contact us at [email protected]. We are happy to navigate you through the new Google Play Console and show you how you can get even more out of the App Store optimization to put your app in the best position in the Google Play Store.