Authors:

Maartje Eijlander
– BI Lead

Isabella Zulli
– Former Design Lead at Customlytics
Creating the right digital marketing dashboard is a difficult process. Your marketing dashboard should provide a general campaign overview to track the overall performance results of marketing campaigns and assess to what extent targets are met. Beyond that, it also should deliver a detailed look at campaigns to identify which campaigns are impactful (or not). There is no doubt that the impact of a thoughtfully designed dashboard is crucial to the consumption of information and insights of your company's stakeholders.
In this cheat sheet, Customlytics' Business Intelligence team shares best practices around dashboard organization and design.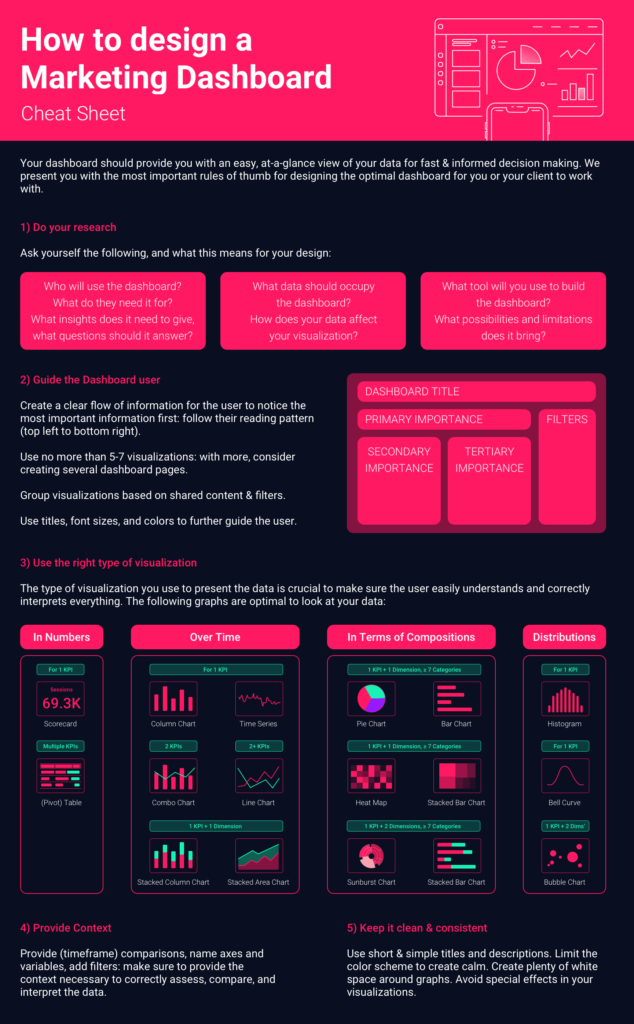 What is your biggest challenge in providing an at-a-glance view that quantifies the overall impact marketing has on your mobile business? We have helped many app marketing teams and product owners create a marketing dashboard that is useful and adds value to their company and stakeholders. Check out some of the brands we are proud to have worked with.
💡 Knowledge sharing is at the core of what we do. Learn more about the app industry and discover useful resources by signing up for our newsletter or by bookmarking the Customlytics App Marketing blog in English or German.
📚 We love useful stuff. That's why we co-wrote the Mobile Developer's Guide to the Galaxy. Get your free paperback copy or download the eBook here providing you with all the mobile knowledge you need.
💜 Become part of our community on LinkedIn, Twitter, Xing, Glassdoor or Medium.